A sobbing young girl told a court how Coronation Street star Michael Le Vell warned her she would die if she revealed to anyone he was raping her.
The girl who claims Le Vell raped her as she clutched a teddy bear broke down in tears in the witness box as she told of the alleged abuse on Monday.
The actor, who plays car mechanic Kevin Webster in the ITV soap, is appearing at Manchester crown court accused of five counts of rape, three of indecent assault, two counts of sexual activity with a child and two of causing a child to engage in sexual activity.
The actor leant forward in his seat, his face almost touching the glass screen in the dock, grimacing, closing his eyes and repeatedly shaking his head as the girl gave evidence.
The witness broke down in tears minutes after beginning, sobbing throughout.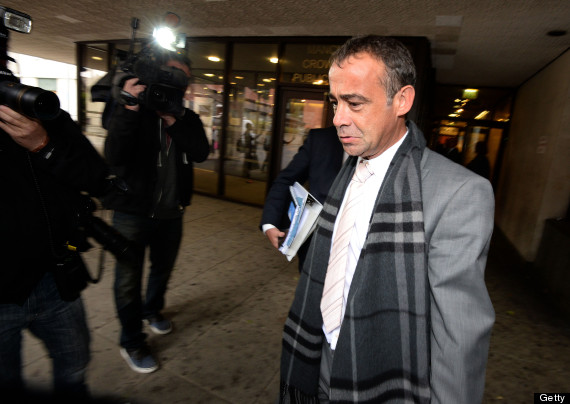 Michael Le Vell, who plays Kevin Webster in the TV soap Coronation Street, leaves Manchester Crown Court
Her identity cannot be made public and she gave evidence behind a curtain, screening her from the public gallery at Manchester Crown Court.
She was given a glass of water before composing herself and continuing to answer questions from Ms Eleanor Laws QC, prosecuting.
Earlier the jury were told the actor allegedly told the girl "It's Okay, just keep calm, stay asleep... I'm going to get rid of the evil", as he sexually abused her.
Le Vell, who is on trial under his real name of Michael Turner, denies the offences and shook his head, saying "not guilty" in a strong voice as the charges were put to him before his trial began.
His alleged victim told the court when asked about the alleged abuse: "I was very scared because it didn't feel right.
"It felt like I wasn't in my body at the time and I was just watching it."
Asked why she did not tell anyone of the abuse, she replied: "Because he told me not to. It was our little secret."
Le Vell allegedly told the child: "It's our little secret, no-one needs to know otherwise ... you'll die and the evil will come over you."
The witness told the jury that during one of the alleged rapes Le Vell told her she "was safe and that he was just getting rid of all the evil and bad that was inside me".
She said the assault was "painful" and that during it "he stopped me speaking by putting one of my favourite teddy bears over my mouth. I could still breathe but I couldn't say anything."
The witness said that after that particular assault "he just sort of got off me and kissed my left cheek and then left".
She said the alleged attacks made her feel "disgusting" and that the experiences "sort of froze" her body and that she did not know what was happening to her.
After his arrest Le Vell told officers the allegations were a "pack of absolute lies" and he has maintained his innocence throughout.
The girl said some episodes of the alleged abuse lasted around 10 minutes but it "felt like a lifetime".
She said she felt "dirty and disgusting" adding: "I felt really ashamed of myself."
"I thought I had done something wrong and I could not understand why he was doing it to me," she said.
"And I thought there was evil in me and I thought I was a bad person and I was not."
The trial was adjourned until Tuesday.
Comments are closed for legal reasons