SEE ALSO: Google Maps 'Murder Scene' Culprit Is Revealed To Be... A Soggy Dog
It's an ongoing art project where contributors open their hearts about love, sex and life, but PostSecret turned decidedly dark when one anonymous member submitted an apparent murder confession.
The postcard features a Google map with an arrow pointing to a spot, accompanied with a note, which reads: "I said she dumped me, but really I dumped her body."
Of course, the "secret" could well be bogus, but the post generated a flurry of speculation – and an official investigation.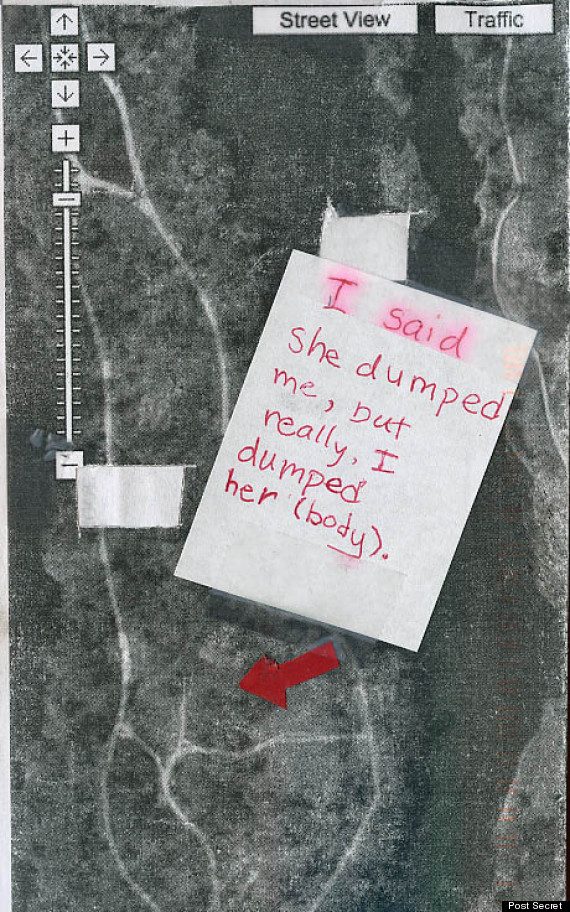 When the card made it onto Reddit, users pinpointed the location as Chicago's Jackson Park, Daily Dot revealed.
A police spokesman told the Chicago Tribune the authorities had received an anonymous call about the postcard and that a police search had turned up nothing – though the information has been passed to detectives.
It is not known if PostSecret head Frank Warren contacted the police himself and the matter has opened a debate as to what responsibility the site has to flag such confessions up to the authorities.
Some readers have questioned Warren's decision to publish the card at all, with Twitter user @MeggRo asking: "Why is domestic violence okay if portrayed through a 'secret' on a 'secrets' website?
Why is domestic violence okay if portrayed through a "secret" on a "secrets" website? #postsecret

— meg (@MeggRo) September 1, 2013
Reddit sleuths have been in hot water previously when a crowdsourcing exercise wrongly identified a missing undergraduate as one of the Boston bombers.
Sunil Tripathi had been suffering from depression and was later found dead. The moderator of the thread posted an apology for the misidentification and pain caused to his family.
Indeed Reddit was the scene of a similar "confession" recently, when one user posted a "Confession Bear" meme to allegedly confess to murder.
The meme is generally used for more lighthearted "confessions", but Redditor "Naratto" wrote: "My sister had an abusive meth addict boyfriend. I killed him with his own drugs while he was unconscious and they ruled it an overdose."
The confession turned out to be a hoax.