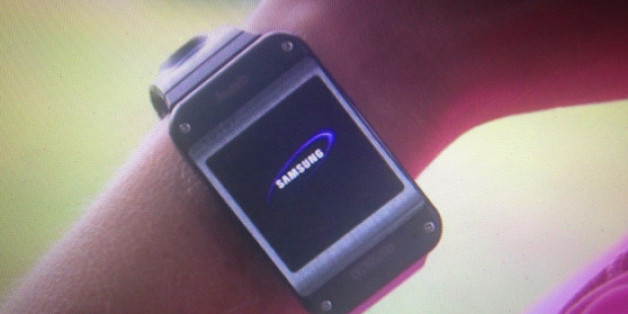 VentureBeat
Samsung's long-awaited 'Galaxy Gear' smart watch might have been leaked ahead of its unveiling in Berlin later this week.
But it might not be quite the vision of the wearable computing future you were hoping for.
VentureBeat published photographs of what it said was a "first look" at the watch, confirmed to be a prototype sent to several developers.
The device has a one-inch square, high-quality OLED touchscreen, and a bulky, industrial look. The post by VentureBeat described a marketing video promoting the watch's health and fitness features, pitching it as a competitor to the Nike FuelBand more than a potential Apple iWatch.
But other tech sites have since claimed the prototype is quite different from the finished product.
GigaOM said that Samsung has a "different, more finished" product which will be announced in Berlin.
GigaOm's (also unnamed) source says that the watch uses Android 4.3, has no keyboard abilities but can connect to iOS devices as well as Android with Bluetooth Low Energy.
The prototype has a battery life of around 24 hours - but 10 hours if used regularly - as well as full-screen notifications, a built-in camera and microphone and a dual-core 1.5GHz processor.
We're still excited to see what Samsung has up (and on) its sleeve. But if you were hoping for something with a beautiful, potentially impossible curved screen as seen in various concept images you might be disappointed.