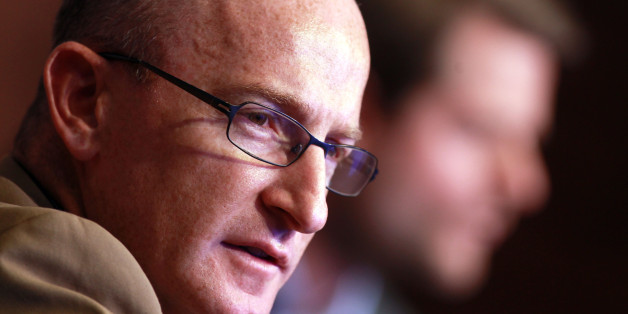 Getty
Credit unions, the financial groups championed by the Archbishop of Cantebury Justin Welby, would need state support to rival payday lenders, the boss of payday loans giant Wonga has warned.
Speaking to the Huffington Post UK, Wonga CEO Errol Damelin said: "If you want credit unions to be sustainable, the sustainability means being profitable, otherwise you're looking at handouts from government."
"If you assume that you want it sustainable then they need to be profitable. To get to profitability of that scale requires massive human investment and data investment and systems investment that none of them have the capability to do.
"I don't think it's a question of time. You need a plan to do it and funding for the plan to help the credit union get some scale."
The payday loan boss was speaking as his company revealed it made record profits of £62.5 million in 2012, a 36% increase on the previous year. Archbishop Justin Welby said last month that he had told Damelin he would "compete [Wonga] out of existence" by throwing the Church of England's weight behind credit unions.
Welby's remarks later led to the surprise news that the Church of England itself invested in Wonga through its pension fund.
Damelin also told the Huffington Post UK that the idea, touted by Labour Co-operative MPs, of introducing a levy on payday lenders to fund credit unions "doesn't make sense".
"It's like asking any industry to fund its competitors," he added.
The payday lender boss attacked legislation around the loans industry which forces Wonga to advertise its annual percentage rate (APR) of interest on its loans, which goes as high as 5835%.
Damelin told the Huffington Post UK that it was a "nonsense" and payday lender firms should be able to show a "total cost of credit", arguing that it would better reflect Wonga's short-term nature.
"We think there should be a normalised price mechanism, like buying water and having a per 100ml in the supermarket is useful for the customer. There should be an appropriate measure that is standardised for all financial services products in the sphere and that overdrafts and late fees should be measured by the same token.
"APR isn't a very useful number because it's a number that is useful for loans of more than a year. If you get below, then it starts to become a nonsense.
"There should be a number that captures every single cost, per hundred pounds borrowed, per day, per week or per month and every single product should have stamped on it that same number."
Damelin said that people can get "very religious" in the debate over payday lenders.
"You need to think about business practise more than models. People can get very religious about this model being better than that model."
"There are different kinds of credit cards, banks and lenders, it's about business practise and whether customers appreciate the services they are getting"
SEE ALSO: