Officials are seizing barely a third of the number of weapons they are supposed to recover at the UK's borders, it has been revealed.
Drug and counterfeit cigarette hauls were also miles off target, the National Audit Office said.
It comes after a National Audit Office report said staff were being dragged away from vital security checks in order to keep passport queues down, leading to headlines about the UK's borders being in "chaos".
Figures not included in the NAO's report reveal the extent to which it is missing its targets.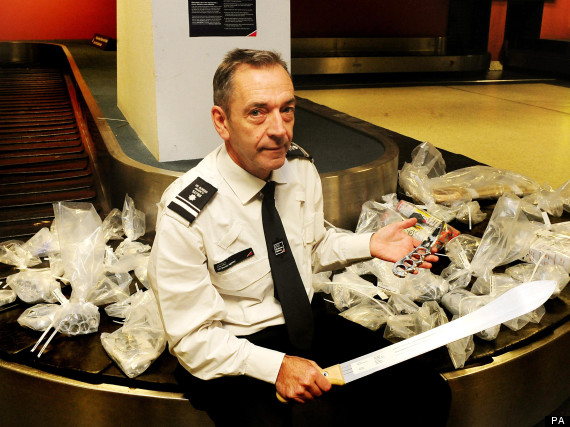 Targets for weapons recovered were missed by miles
Last year, 6,027 offensive weapons were seized, miles short of the target of 16,679.
Just 360 tonnes of tobacco were recovered, compared to the target of 524, while 18,658kg, not 35,722kg, of non class A drugs were spotted.
On Wednesday, immigration minister Mark Harper was hauled before Parliament to explain the failures as Labour tabled an urgent question on the report.
The absence of Home Secretary Theresa May was noted by her shadow, Yvette Cooper, who said: "When will she stop ducking responsibility and start to sort the fundamental problems out."
Harper said targets were being met in terms of class A drug and firearms seized.
But Labour MP Steve McCabe asked whether ministers were more concerned about "border queues they see on a TV screen" than security.
The NAO, the UK's public spending watchdog, said the checks had been overlooked since border security staff came under pressure to cut passenger queues during the London 2012 Olympics.
Border Force officers told the NAO staff shortages and the need to juggle full passport checks with keeping queue times down has often stopped them from key duties such as checking for illegal goods.
Nearly 100% of passengers at the border received full passport checks in 2012-13, the NAO said, while more than 99% of European arrivals cleared controls within the 25 minute target time.
But this success came at the expense of activities outside dealing with passengers, as the number of entry refusals at the border, forgery detections, and seizures of cigarettes and counterfeit goods all came in below targets.
Margaret Hodge MP, chair of the Committee of Public Accounts, said: "The Border Force did well to reduce queuing times both during and after the Olympics, but it is deeply worrying that this came at the expense of its other responsibilities, particularly customs.
"The Border Force must be able to check both goods and passengers at the same time - border security cannot be an either or choice."
She added: "The Border Force must be in a position to deliver world-class border controls at all times."
Border Force - formed in March last year as a law enforcement command within the Home Office - has officers at nearly 140 sea and air ports across the UK and overseas.
With a budget of £604 million this year, it must deal with an expected 10% surge in the number of passengers arriving in the UK on flights between 2011 and 2017 - from 106 million to 117 million.
The Home Office internal auditors have confirmed the 2012 Olympics and wider resourcing issues have had an effect on the Border Force's ability to support customs controls.
Elsewhere, the NAO, which is tasked with ensuring public services are delivering good value for money, said Border Force staff lack "organisational identity".
It is made up of officers who previously worked in separate customs and immigration agencies, who typically still identify themselves as "ex-customs" or "ex-immigration", the spending watchdog said.
Five director-generals have been in post over the course of just 18 months, the auditor added.
Immigration Minister Mark Harper said: "The UK operates one of the most secure borders in the world and I am pleased the National Audit Office recognises the success of Border Force in implementing full passenger checks while also reducing queue times.
"We inherited an organisation with significant challenges and, while some of these remain, I am confident that under the long term leadership of the new director general, Sir Charles Montgomery, Border Force will continue to build on its many areas of excellence.
Shadow home secretary Yvette Cooper said: "This report is shocking and shows the chaotic and cavalier approach David Cameron and Theresa May have taken to border security and illegal immigration."
"The NAO found drops in checks for illegal migrants and criminal activity because of the Home Secretary's irresponsible decision to cut 500 Border Force staff prior to the Olympics."