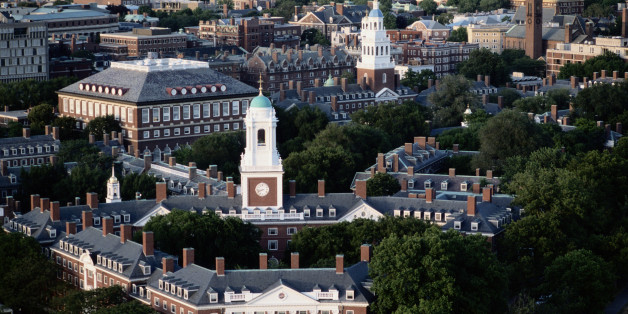 Getty
Harvard University is the place to study if you want to become CEO of one of the world's largest companies, while UK institutions are nowhere to be seen, a first-of-its-kind study has revealed.
The Alma Mater Index: Global Executives list ranks the universities that have educated the most Fortune Global 500 CEOs. The UK's first entry is Oxford University, which places 21st, while the US dominates the top 100 with 38 institutions, followed by China with 15 institutions.
Asia boasts 29 universities in the table, compiled by the Times Higher Education, with Europe catching up with 26. Asia's number one university is the University of Tokyo, which ranks second, while Europe's is École Polytechnique in France, ranking fourth.
Of the CEOs of this year's Fortune Global 500, 5% (25) have at least one degree from Harvard University, with 3% (13) from University of Tokyo. CEOs who graduated from Harvard University run companies with eye-watering combined total revenue in excess of US $1,500bn.
Many of the CEOs, however, don't have a bachelors from a highly ranked university - prestige often coincides with a masters, MBA or PhD. Incidentally, none of the top 10 CEOs has a Harvard degree at any level.
Top 15 universities producing CEOs: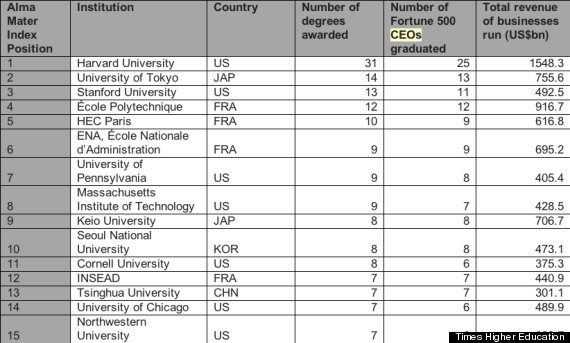 Justin King, CEO of British supermarket giant Sainsbury's, said: "Qualifications can be valuable and enriching, but I always advise people to choose carefully.
"I believe the experience you share with your peers and the opportunity to find out more about yourself are just as important as the degree or work experience itself."