Burglars in Greater Manchester have found a sinister way to mark out potential targets, it has been reported.
The Manchester Evening News said a series of chalk marks were being left on houses to prepare for possible burglaries.
The symbols could set out whether a vulnerable female was living alone, the paper reported, or whether the house was deemed "too risky" or had "nothing worth stealing".
According to The Mirror, the thieves' markings, dubbed the Da Pinchi code, are used to show which houses are worth stealing from.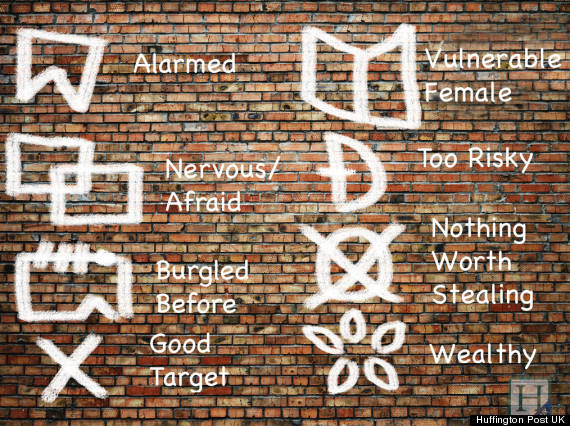 Police believe symbols like these have been used to set out possible targets
They have been reportedly been used in other parts of the country, and earlier this year Devon and Cornwall Police used Twitter to alert homeowners to the tactic, urging people to scrub off any signs they spotted.
Greater Manchester Police told The Huffington Post UK there was no evidence any crimes had been committed as a result of any marks on homes.
It confirmed it had been called by a woman concerned about a chalk mark next to her house.
Great Manchester Police Chief inspector Sue Downey said: "Police in Salford received a call from a woman in Walkden, who was concerned that a symbol had been marked on her house in chalk.
"Enquiries have been carried out and residents in the surrounding area have been spoken to, and we have received no further reports of any such activity.
"We always ask the public to remain vigilant and to report any suspicious activity to the police, which we will investigate.
"On this occasion we can find no link between the chalk symbol at this address and any criminality."