Wikipedia founder Jimmy Wales has called on the government to change the rules of entrepreneur visas to encourage more technology experts to move to Britain.
He also claimed that living in London could prove more enticing than the USA's Silicon Valley for tech-savvy people from around the globe.
Speaking at Campus Party, a week-long technology festival at the O2 in London, last night he said:
"I think we could go much further with (the entrepreneur visa), make it easier to get, make it possible to bring in more people. Those kind of things are quite critical.
"I think we want to be able to go to Silicon Valley and say to all of those really talented people from China and India who are there on a H-1B (working) visa: As long as you are here on a H-1B visa the minute you lose your job you've got two weeks to leave the country, you have got no path to citizenship.
"Come to the UK. We've got a similar programme but it's a programme that will allow you to build a business and a future and a life for yourself rather than being a plantation worker for Google."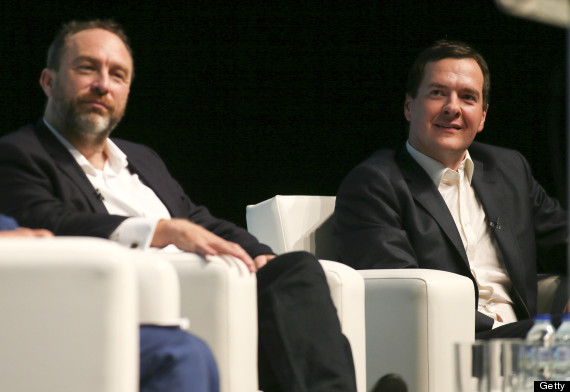 Above: Wales on stage with Chancellor George Osborne
Wales went on to promote London as a destination for workers in the technology industry.
"Nobody wants to live in San Jose, California. It's incredibly boring, " he said. There are reasons to move there if you are an entrepreneur, if you want to get a job at Google.
"San Francisco is okay. San Francisco thinks it's a world class city. London is a world class city and I think for creative young people, particularly as we're moving into an era certainly in the consumer internet world - where the ideas are about the way people live their lives and interact and so forth - it's not all going to be pure mathematical hard technology. I think that vibrant open culture is the second wave and it's more about how do we connect with people.

"It's something that many Silicon Valley companies have a very hard time with because they're a bunch of guys who live in an environment where they go to work and they code all day and go home and they really don't have a sense of what's going on outside there."
He added: "There's the possibility that you will have an idea because you live in a vibrant city that you would have never had if you lived in the Silicon Valley echo chamber."