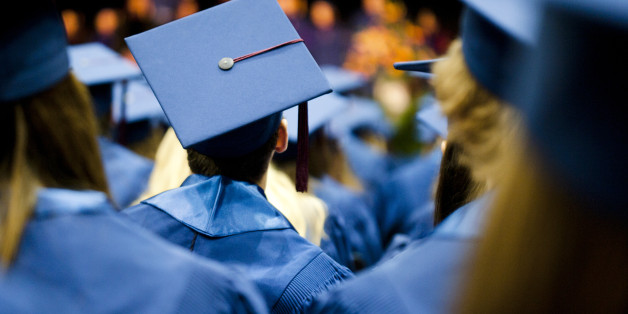 Getty
Postgraduate degrees should not be seen as a "delaying tactic" to finding a job as those who study them are more likely to secure work, a report has found.
The study also suggests postgraduate education can help graduate find a better job. The findings showed 85.5% of those holding a postgraduate qualification were employed, or working and studying six month later, compared to 73.7% of those who left education after getting their first degree in 2011/12.
SEE ALSO: How To Create The Perfect LinkedIn Profile

Revealed: The Top 10 Jobs To Make You Happy
The What Do Graduates Do? study, by the Higher Education Careers Services Unit (HECSU), examined official data on what first-degree graduates and postgraduates were doing in January this year, six months after finishing their studies.
Around a fifth of students continued their education, such as studying for a Masters, after completing their first, undergraduate, degree.
They were also less likely to be jobless, with 5% of postgraduates unemployed compared to 8.5% of those who did not continue their studies.
And they were more likely to be employed in professional or managerial roles (91% compared to 65% of first degree graduates).
A Masters was the most popular course, gained by more than half (51.4%) of those who completed a postgraduate qualification, the research found.
It also revealed that women were more likely to be postgraduates than men and that three in five (60.7%) had studied for their further qualification full-time.
There was also a wide age range, with more than a fifth (22%) of those taking a postgraduate course aged 40 or over.
In general, more than a third (34.3%) of those who stayed on after their degree were working in education, taking on jobs in primary and secondary schools or in universities and colleges.
Many also went on to work in healthcare, including becoming nurses, social workers and researchers.
Masters graduates were more likely to find jobs in business, HR and finance than other postgraduates, it added.
The study stated: "Postgraduate qualifications are taken by people of all ages for a multitude of reasons and postgraduates go on to many different activities after graduation.
"Some postgraduate destinations are very specific and related to the course studied; for example it is unsurprising that most of the graduates from a PGCE/PGDE entered employment as teachers six months after graduation.
"Other courses have less clearly defined employment outcomes; nonetheless postgraduates appear to be more successful in the labour market than those qualifying with first degrees."
HECSU deputy director of research Charlie Ball said: "The annual graduate destination survey has much-improved data on further study and postgraduates this year so we can take a closer look at these areas in What Do Graduates Do?
"It shows that further study isn't just a tactic to delay getting a job, but a destination that has positive employment outcomes with many choosing to study career-related subjects.
"While the figures can help those considering further study to make more informed choices, they should tread with some caution.
"There are not obvious career paths for many postgraduate degrees, the landscape is more complex and career trajectories vary hugely by subject, so it's vital to seek good advice and talk to careers services before making a decision."