Vladimir Putin has welcomed President Obama to the G20 in St Petersburg, amid increasingly tense relations between Russia and the United States over potential military action by the West in Syria.
The two men smiled and shared an unavoidable if awkward handshake on Thursday afternoon, with the Russian president greeting each world leader as they arrived at the annual summit.
Once he secures US congressional approval, Obama is expected to launch military strikes against Syrian president Bashar al-Assad as punishment for his alleged use of chemical weapons against his own people. However Putin, a long-time ally of the Syrian dictator, has repeatedly blocked any UN approval of action against the Assad regime and has accused the Obama administration of "lying" as it prepares to use force.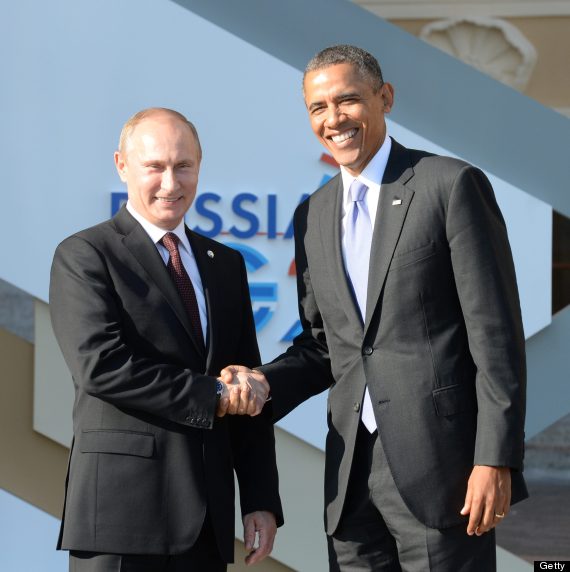 Just smile for the cameras
Obama cancelled a planned one-to-one meeting with Putin after the Russian president granted asylum to the NSA whistle-blower Edward Snowden. But given this year's G20 meeting is being held on Putin's home turf, the US president has no choice but to personally engage in some way with the Russian leader.
Acknowledging the tension over Snowden and Syria, Putin told the Associated Press that Obama "hasn't been elected by the American people in order to be pleasant to Russia" and "your humble servant hasn't been elected by the people of Russia to be pleasant to someone either".
On Wednesday, Putin also accused the US secretary of state John Kerry of making up reasons to launch military strikes against Syria. "He is lying and he knows that he is lying. This is sad," he said.
The frosty relationship between Obama and Putin marks a serious deterioration since 2009, when the newly elected US president said he hoped to "reset" relations between the Cold War foes.
On Wednesday Russian diplomats attempted to undercut Obama's plans for a military strike on Syria by lobbying the US Congress directly. A Russian embassy spokesman told CNN that he and his colleagues had reached out to Republican and Democratic members of the US Senate and House of Representatives. House Speaker John Boehner, one of the most powerful men on Capitol Hill, said he had turned down the invitation and has offered rare, public support to President Obama on Syria.
The G20 meeting of world leaders was supposed to focus on the state of the global economy but the crisis in Syria is now likely to dominate talks. David Cameron, who arrived in St Petersburg this morning, is expected to be largely sidelined given he has been forced to rule out British involvement in military action after losing a vote in the House of Commons on 29 August.
In a further embarrassment to the prime minister, Obama is scheduled to hold a bilateral meeting with French president Francois Hollande - but not one with Cameron.