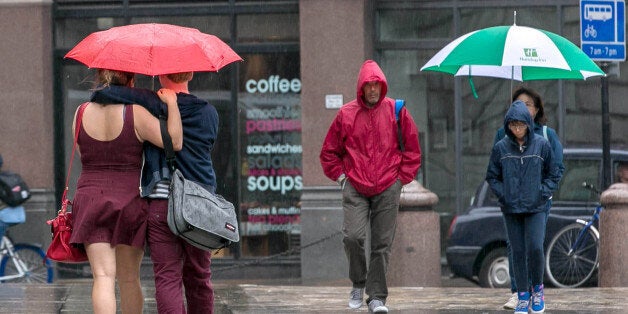 Heavy rain and cooler temperatures brought a major change today from summer heat to autumnal weather across much of the UK.
The mercury fell by more than 10 degrees Celsius in many areas and rain lashed down, bringing fears of localised flooding.
Thursday's best temperatures were 30.2C (86F) at Writtle in Essex and Frittenden in Kent, but today the readings there were 16.8 and 16.4C (62F).
Cricket fans were disappointed as the first one-day international between England and Australia was abandoned without a ball being bowled due to rain at Headingley.
Billy Payne, a forecaster with MeteoGroup, the weather division of the Press Association, said conditions began to change overnight.
"It's a wet day across much of the country - quite a contrast from yesterday.
"Some of the rain is heavy and prolonged and there could be 30mm (one and a quarter inches) of rain in parts of northern England, north Wales, southern Scotland, and eastern parts of Northern Ireland, in the next 24 hours, which could bring a risk of localised flooding."
The south west saw thundery showers and lightning, he said.
Wet weather in the South East is likely to turn drier and there may even be some sunny spells, he said.
The picture remains unsettled over the weekend, and into next week.
But he urged people not to give up hope of more hot weather before the winter months arrive.
"On October 1 2011 the temperature reached 29.9C at Gravesend in Kent, the warmest October day on record," he said.
"Looking at the next couple of weeks, there's no sign of anything particularly warm, but I wouldn't write it off completely yet."