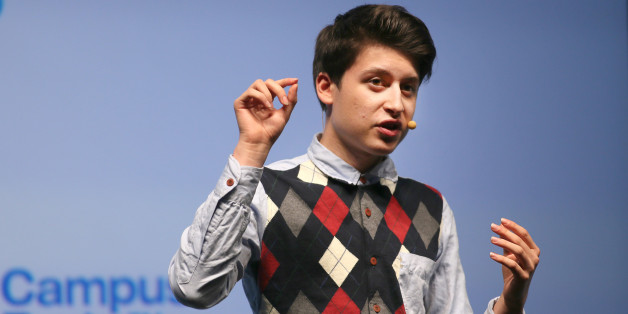 Getty
Ask anyone for a word they'd immediately associate with Glastonbury and most people would immediately say 'mud'. It's the festival way – tents, music, British weather and wellies.
This week, though, we've been at a festival with a difference. Instead of welly boots, we've had warm reboots – because we've been at Europe's largest technology festival: Campus Party Europe.
Less than a week after launching our next generation of mobile network technology in London, we found ourselves welcoming the next generation of innovators to the capital, too. On Monday, thousands of Campus Party attendees (or 'campuseros') descended upon The O2, having traveled from all over the continent. Unfazed by their journeys, they took their places in the Live Quarter - a hub of activity at Campus Party, where hackers and enthusiasts share knowledge in order to create the next wave of technical innovations.
Later in the evening, TV's Suzi Perry welcomed them to the event before Beardyman took to the stage. As well his usual genius beatbox set, he was pretty excited to be able to tell his boffin-filled audience about his bespoke software, and even hinted that he was on the hunt for a new apprentice.
After the excitement of the opening ceremony, you'd think that things might calm down a little. And you'd be wrong. The 24-hour festival is exactly that – hackers, coders and gamers in the Live Quarter at all hours, unable to tear themselves away from their screens and try to find their temporary home amongst the sea of tents
It wasn't just the geeks who turned up, either. Lots of big hitters were there – Microsoft showed up with an Xbox One and a truckload of Surface tablets for campuseros to play with, and Sony unveiled their flagship smartphone, the Xperia Z1, on Thursday.
Campus Party's equivalent of a rockstar line-up included legendary keynote speakers such as Atari founder and all-round godfather of gaming Nolan Bushnell, Vint Cerf (one of the men who invented the internet... possibly the world's best bragging right?) and Lord of Linux John 'Maddog' Hall.
It's been a busy week – across several stages, we've seen over 500 hours of planned talks, workshops and gaming tournaments, and then there's the impromptu overnight stuff that campuseros have arranged between themselves. As with any huge festival, it's been a little difficult to decide where to go and what to do, and our legs are a bit sore after a week of scurrying from one thing to another. But we're pretty convinced that we've discovered the best festival toilets ever, and we're not writing this article from the middle of a field, shivering and up to our knees in mud.