Following the decision by a college to ban Muslim students from wearing veils, students, leaders and politicians alike are campaigning to have the controversial rule reversed.
A Facebook group set up by Muslimah Pride to organise the rally has invited more than 7,000 people, with nearly 600 already confirming attendance.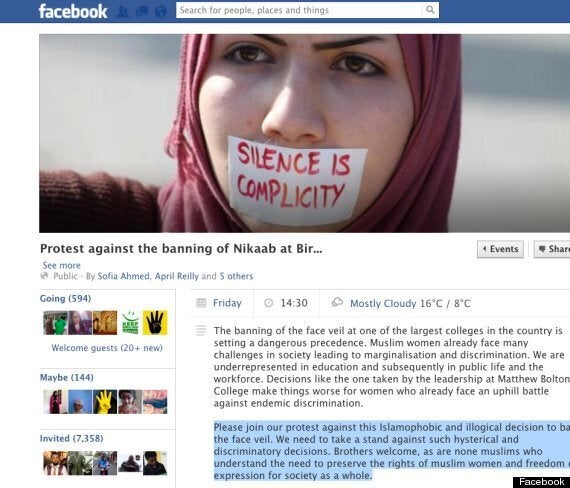 The Facebook group urges people to protest against 'marginalisation and discrimination'
"Please join our protest against this Islamophobic and illogical decision to ban the face veil," an explanation of the protest reads. "We need to take a stand against such hysterical and discriminatory decisions. Brothers welcome, as are non-muslims who understand the need to preserve the rights of muslim women and freedom of expression for society as a whole."
A spokesperson for Muslimah Pride told HuffPost UK: "Muslimah pride feel as if this ban is a result of the Islamophobia that is sweeping across Europe and has been increasing in Britain.
"Muslim women are marginalised in British public life, education and the work force. Decisions like this set a dangerous precedence. Muslimah pride ask for the college to remove the ban an reverse this deeply racist and discriminatory decision."
Braddock had previously faced criticism in 2005 after she banned religious groups and societies at the Matthew Boulton College campus, which is part of BMC.
National Union of Students' black students' officer Aaron Kielty has now set up a petition, which already has more than 2,000 signatures, calling on the college to reverse its decision.
"This ban is a complete infringement on the rights to religious freedom and cultural expression and is a clear violation of a woman's right to choose," Kielty says. "Women in Britain are rightly free to wear religious dress. We will be exploring all options to robustly challenge this outrageous decision.
We call on Birmingham Metropolitan College to reverse its decision and respect the fundamental rights of its diverse student population to freedom of thought, conscience, religion and cultural expression."


Shabana Mahmood, MP for for Birmingham Ladywood said she was seeking an "urgent meeting" with the college.
"I am shocked to hear that Birmingham Met has banned female Muslim students from wearing the veil," she told the Huffington Post UK. "For those that chose to wear the full veil, it is an important article of faith.
"I am deeply concerned that other colleges may follow suit as a result of which increasing numbers of women will be locked out of education and skills training - we must not allow this to happen."
Following a landmark legal case in 2007, headteachers were given the power to order students to remove their veils in class. The government has previously issued guidance which enabled schools and colleges to ban full-face veils on the grounds of security, safety or learning, as teachers argue they need to be able to tell whether a pupil is paying attention, engaged or distressed.
The Federation of Student Islamic Societies (FOSIS) president Omar Ali added: "This senseless decision is massively divisive and will only lead to an environment in which the rights of many will be disproportionately suppressed. The fundamental rights to freedom of religious expression are at stake here and this sets out an extremely dangerous precedent not only for the Muslim community but for members of all faith backgrounds."