"You lot are so bad. You really aren't the best judges," Sir Alex Ferguson, fresh from his ninth Premier League title win as Manchester United manager, teased the assembled press. Chelsea's draw at Arsenal a day earlier had confirmed United's first league success in four years and Ferguson was determined to savour his "greatest achievement" over José Mourinho's Chelsea juggernaut.
The Guardian's Daniel Taylor memorably recalls the ordeal he and his peers experienced as they wiped egg off their face in the essential This Is The One as they faced the music of Ferguson's choice.
"One thing is for certain: never again will anyone in this room doubt Ferguson's capacity for battle nor suggest that age has warped his talents. Never again will we leave ourselves in a position where, genuinely, it would not be inappropriate for one of us to tug on his arm and say: 'Jesus, Alex, we got it wrong, didn't we?'"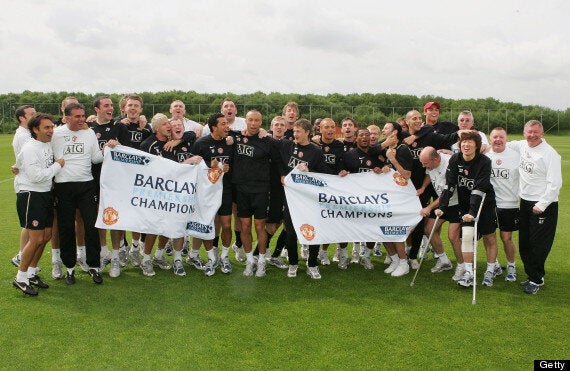 United celebrate their first title in four years
The 2006-07 season is perhaps, on the merits of quality and competitiveness, Ferguson's finest domestic triumph. United's competitors, Chelsea, were back-to-back champions - a feat Arsène Wenger's outstanding Arsenal teams never achieved - and had romped to both wins with considerable ease. United trailed the Blues by 18 points in 2005 and although that was reduced to eight in 2006, it was chiefly because the league was sealed in April.
Yesteryear, United would have responded with a signing of intent, but the Glazer family's 2005 takeover of United limited the club's spending. Ji-Sung Park and Edwin van der Sar arrived for £6.5 million combined before Nemanja Vidić and Patrice Evra joined six months later for £7m and £5m apiece.
Vidić was treated to one of Alan Hansen's more memorable Match of the Day defensive dissections as he initially struggled with the culture shock of the Premier League while the usually defensive United We Stand fanzine asked "are the Bats blind?" when it was rumoured Valencia were interested in buying Evra.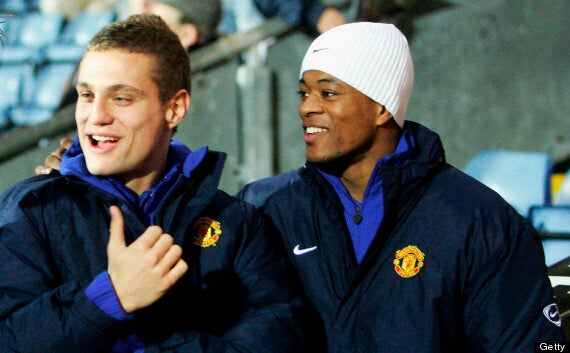 Vidić and Evra had bad starts to their United career
Chief executive David Gill hollowly promised, not for the first nor last time, United would make "two world-class signings" ahead of the 2006-07 campaign. Instead, the promising Michael Carrick and Tomasz Kuszczak joined as the popular Ruud van Nistelrooy departed.
But Ferguson had been laying the groundwork. Van Nistelrooy had already lost his place in the side to Louis Saha since the 2006 League Cup final, as Ferguson altered United's approach to accommodate the more fluid Frenchman rather than the demanding Dutchman.
The results were instant. The 4-0 battering of Wigan in Cardiff sparked a run of seven successive league wins which took United to within six points of Chelsea, until a goalless draw against an execrable Sunderland side scuppered any hopes of what would have been a remarkable 2006 title win. Saha and Rooney began a fruitful rapport at the Millennium Stadium
While Gill failed to keep his promise, Roman's roubles brought Michael Ballack and Andriy Shevchenko to Stamford Bridge, Liverpool bought big and Arsenal had persuaded Thierry Henry to sign a new deal. The supposed chasm compelled FourFourTwo magazine to predict United would finish fourth.
Instead they won 28 of their 38 games, scored 83 goals and were top for all but two weeks in September. Eight members of the 2006-07 PFA Team of the Year were United players as they finished six points ahead of Chelsea and 21 ahead of the much-fancied Liverpool.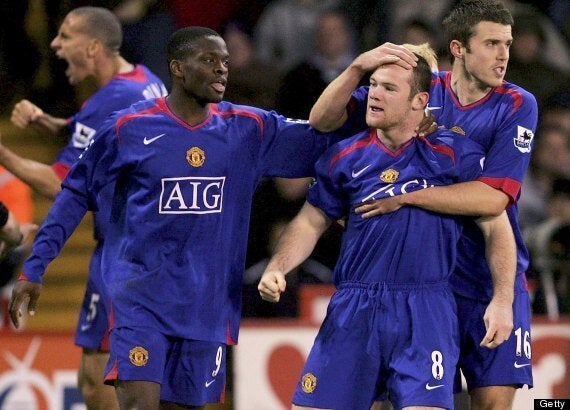 United were superb in 2006-07
United are easier to write off now because Ferguson is no longer their manager and his replacement has only ever won the Division 2 title. Add to that the Supermarket Sweep-style trolley dash for midfielders and overspending by £4m on a player whose buy-out clause was common knowledge, and it all makes for an unconvincing start for David Moyes.
If he is seeking a blueprint for success, he should adopt Ferguson's 2006-07 masterplan. Back when matchday squads were limited to 16 players, United's XI was as predictable as it was effective: Van der Sar, Neville, Ferdinand Vidić, Evra, Ronaldo, Carrick, Scholes, Giggs, Rooney and Saha might not be Ferguson's best team but it is one of his most exciting.
Consistency breeds success and the aforementioned line-up remained largely intact in the autumn and winter. Ferguson initially struggled to decide between the lithe Evra and more physical Gabriel Heinze at left-back, but any changes were wholesome rather than wholesale. United thumped Bolton 4-0 in an outstanding away display
He had little choice when the five substitutes tended to be chosen from Kuszczak, John O'Shea, Kieran Richardson, Ji-Sung Park, Darren Fletcher and Ole Gunnar Solskjaer. O'Shea, Richardson and Fletcher were fighting for their United careers after Roy Keane's MUTV tirade the previous year, Park was out for three months between September and October, Solskjaer was so immobile he might have had a stannah stairlift installed at his home and Alan Smith's hasty return from a broken ankle prompted him to undergo four more months of rehabilitation.
When United experienced an "injury crisis of major proportions" in April, the thinness was such that Fletcher and Richardson - midfielders - had to slot in at full-back, with Ferdinand (groin), Vidić (collarbone), Neville (ankle), Park (knee) and Saha (hamstring) on the sidelines.
Moyes has a larger and superior squad but failed to compensate for not being Sir Alex Ferguson in the transfer window. He targeted the right areas in central midfield and left-back, but his and the maligned executive vice-chairman Ed Woodward's shortcomings have advertised the discontent with this United squad.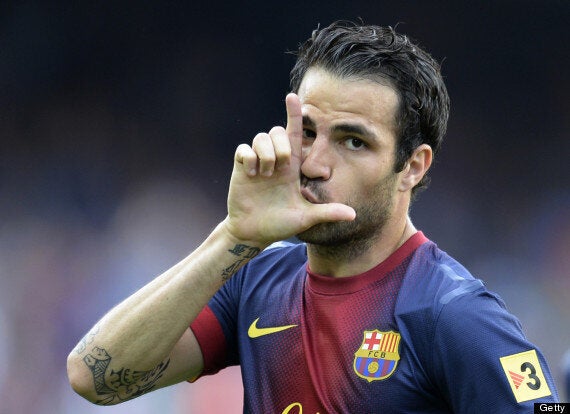 United were unable to bring Cesc Fàbregas to Old Trafford
The Champions League is realistically beyond United but the league isn't necessarily. As Moyes is been keen to stress, he has inherited a squad of champions and the quality has not diminished overnight. Keeping Wayne Rooney isn't the "coup" Woodward would like United fans to think of it as, but the team are stronger with him than without him, especially since they were unable to bring in an outstanding attacking midfielder.
And one of the few upsides from the window is Moyes now has a starting XI to entrust for the league matches. De Gea, Rafael, Ferdinand, Vidić, Evra, Fellaini, Carrick, Nani, Rooney, Kagagwa and Van Persie is arguably United's finest starting side and is, pivotally, a match for any other team in the top flight.
In the Community Shield, United were set-up to accommodate Fellaini and Leighton Baines. United's failure to bring in the latter - or Fabio Coentrão - is not exactly a slight on Evra but an indication of a full-back's demands in a Moyes team. Baines, an ever-present in the league, essentially plays as both left-back and left-winger for Everton, enabling Steven Pienaar to roam centrally, a role Shinji Kagawa covets.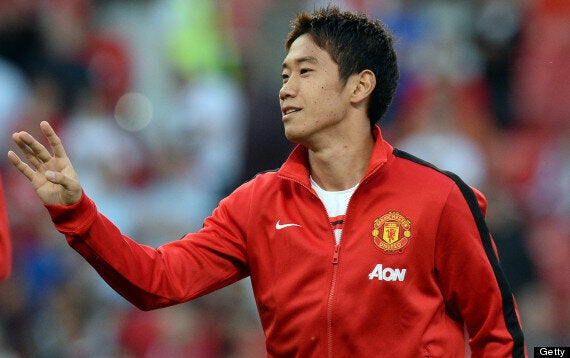 Kagawa is yet to start under Moyes
Kagawa's omission from United's squad at Liverpool a fortnight ago was insulting to one of the squad's most gifted footballers, but after Ryan Giggs continued his end-of-season hangover into the new campaign and Ashley Young's popularity plummeted even further at Anfield, Moyes might finally turn to the Japanese.
Evra, 32, cannot be expected to perform as tirelessly as the 28-year-old Baines and does not possess the same attacking attributes as the Liverpudlian. However he has a pivotal role to play as the sole outstanding left-back in Moyes' squad and should be spared from midweek Champions League group stage and League Cup duty. The same applies to United's solid spine, which boasts four 30-somethings.
Unlike his predecessor, Moyes shied away from tinkering at Everton and has done likewise after four matches with United. In 2006-07, Ferguson opted to rotate and did it so effectively it is puzzling why he reverted to the tombola again. He flirted with it in the September 2006 fixture with Arsenal, inexplicably preferring O'Shea in midfield to Carrick, as the Gunners deservedly won 1-0 at Old Trafford. O'Shea against Gilberto and Fàbregas was a mis-match
Such errors were rare that term, though. Henrik Larsson's loan spell disrupted the Rooney-Saha axis, but changes were kept at a minimum and United only last two meaningful matches in the second half of the season. Now Moyes has to prove there are no better judges.