Flash flooding in Colorado has cut off access to towns, closed the University of Colorado in Boulder and left at least three people dead.
Up to 10 inches of rain fell in 12-18 hours on Thursday with more expected throughout Friday leaving numerous roads and highways washed out or made impassable. There have been reports of buildings collapsing after floodwaters poured into homes.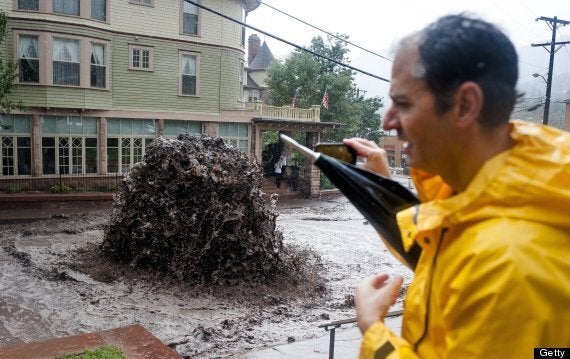 Flood water shoots out of a sewer in Manitou Springs
Boulder County has been the worst hit with the town of Lyons completely cut off because of flooded roads. Local residents have taken to higher ground to avoid the floods.
One person was killed when a structure collapsed in Jamestown while another drowned in northern Boulder as he was trying to help a woman who was swept away in a torrent of water, authorities said. Police found the body of another man in Colorado Springs.
Popular in the Community