Eggs tonnato with capers, cucumber and celery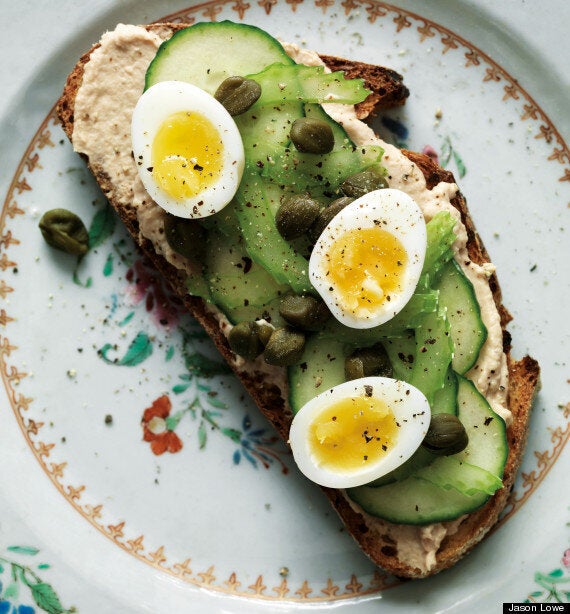 When I asked Twitter what everyone's favourite sandwich was, most came back saying the simple tuna baguette. I couldn't agree more, so here I've just pimped it, giving it a bit of extra flavour and texture.
Tuna purée can be pretty miserable, but done properly it's luscious – creamy and velvety with a lovely, mighty bite. Here it is slathered on top of rye sourdough and studded with soft-boiled quail's eggs, capers, dill, cucumber and celery.
Serves: 1 (but makes enough puree for 3 tartines)
Preparation time: 5 minutes
1 thin slice of grainy sourdough bread
5 thin slices of cucumber
1 x 200g tin of tuna in brine
2 tbsp 0% fat Greek yoghurt
sea salt and freshly ground
Soft-boil the quail's eggs in boiling water for 2 ½ minutes. Peel under running water and halve.
To make the tuna purée, put the tuna, yoghurt, mayonnaise and lemon juice in a food processor and blend together to a smooth paste. Season with salt and pepper.
Spread a third of the purée onto the sourdough (the rest can be popped into Tupperware and then put in the fridge, where it will keep for up to 3 days). Scatter over the remaining ingredients. Eat straight away.
Korean roast lamb shoulder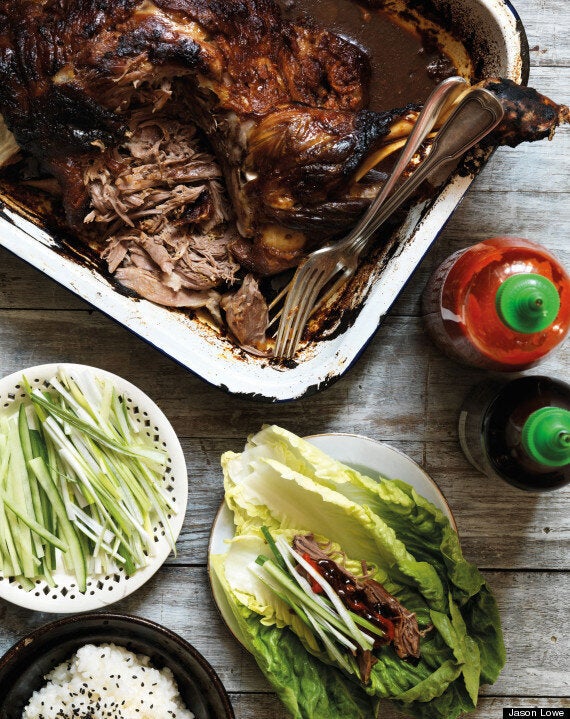 Korean barbecue is hot right now, but quite hard to recreate at home. By marinating a lamb shoulder in the same Korean flavours of soy, miso, gochujang (Korean chilli paste) and sesame and then letting it cook till it falls off the bone you'll have the perfect meat to wrap up in lettuce with sticky sushi rice, cucumber, spring onions, hoisin and sriracha (the very trendy Asian hot sauce). It's a great alternative to the classic Sunday lunch, but still gives you the satisfaction of having a big hunk of meat roasting away for hours!
Preparation time: 10 minutes (plus 2 hours marinating time)
4 spring onions, finely chopped
a thumb-sized piece of ginger,
4 tbsp sweet white miso paste
sea salt and freshly ground
a head of romaine lettuce
4 spring onions, finely julienned
2–3 tbsp toasted sesame seeds
sriracha (Asian chilli sauce)
Mix together the garlic, spring onions, ginger, sesame oil, gochujang, miso, soy and mirin. Season the lamb shoulder with salt and pepper, then smother with the marinade. Cover with clingfilm and leave to marinate for 2 hours.
Heat the oven to 200°C/Gas 6. Heat the vegetable oil in a roasting tin. Remove the meat from the marinade, add to the tin and brown on all sides. (The meat will catch slightly because of the sugar in the marinade, so be mindful of this.) Transfer the browned lamb to the oven and roast for 30 minutes. Lower the temperature to 170°C/Gas 3 and roast for another 3 hours, or until the lamb is falling off the bone.
Carefully transfer the lamb onto a serving plate.
Tip the excess fat from the pan and spoon the remaining juices over the meat. Use a couple of forks to pull the lamb meat into shreds. Arrange the lettuce leaves, spring onions, and cucumber on separate plates. Pop the rice in a serving bowl and top with the sesame seeds.
To eat, fill a lettuce leaf with a small spoonful of rice, a few spring onions and a dollop each of hoisin sauce and sriracha. Top with the shredded lamb, wrap and munch.
Elyse's Peanut Butter and Cornflake Brownies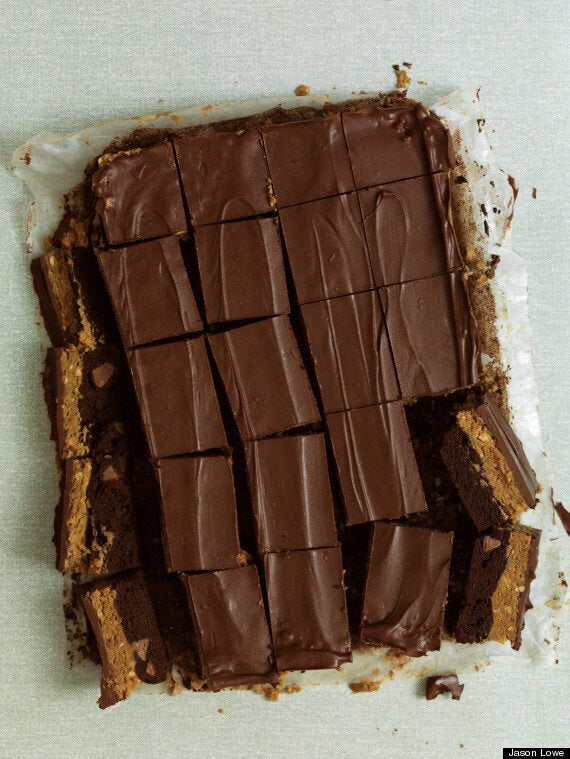 By now I'm sure you've grasped how I'm totally inspired by American food in all its bonkersness, so when I met the exceptionally talented Elyse of Lallapolosa Bakery and she introduced me to her peanut butter and cornflake brownies, I blew
my top! These brownies are off-the-Richter-scale wicked – but if you need that sugar splurge, why not do it in style?
Preparation time: 30 minutes
340g chunky peanut butter
Preheat the oven to 180°C/Gas 4.
To make the peanut butter layer, put the peanut butter, butter, muscovado sugar, salt and vanilla extract in a pan and heat until completely melted and just beginning to bubble, stirring constantly. Make sure you watch it as it burns super quick!
Remove from the heat and add the icing sugar a little at a time, stirring, until completely combined. Stir in the cornflakes, then pop in a blender and pulse until the mix starts to break up but still has crispy shards of cornflake running through. Set aside.
To make the brownies, melt the butter and dark chocolate chunks together in a bowl over a small pan of gently simmering water (aka a bain marie). Put the sugar, cocoa powder, espresso granules, flour, salt and vanilla in a separate bowl and mix until well combined.
Stir in the eggs, then add the melted chocolate and mix together with 4 or 5 swift swoops. Pour into a 30cm x 20cm greased and lined brownie tin and bake in the oven for 20 minutes, or until it cracks across the top but the brownies should still be slightly gooey in the middle.
When the cake is cool enough to touch, spread over the peanut butter layer neatly. Leave to cool.
For the chocolate topping, melt the chocolate and butter together in a bain marie as before. Pour over the cooled peanut butter layer, smooth out and pop it in the fridge to set. Cut into squares and store in an airtight container.