Heavy winds and rain have battered much of the UK, with gusts of wind blowing up to 60mph - and the bad weather is set to stay for days.
The Great North Run, which began in Newcastle, was hit by rain on Sunday, with wind reaching speeds of up to 45mph as the 55,000 runners made their way around the route.
Western Scotland, North West England and Northern Ireland saw the worst of the wind and rain, said Paul Mott, senior forecaster at MeteoGroup, the weather division of the Press Association.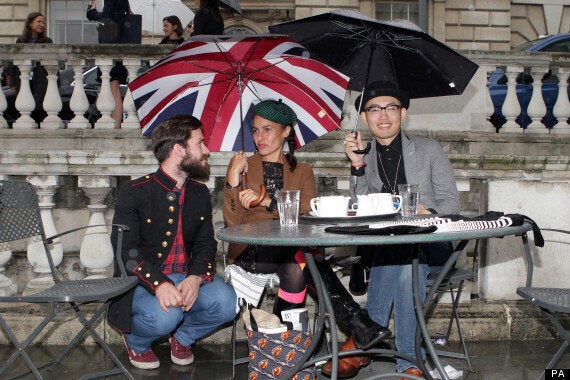 Fashionistas shelter from the rain at London Fashion Week, at Somerset House
"It's been stormy, with strong gale force westerly wind between 50 and 55mph over Scotland and Cumbria, and locally gusting up to 60mph," said Mott.
In Shap, Cumbria, 28mm of rain fell in the six hours until midday on Sunday. The windiest place was Orlock Head in Northern Ireland, where winds of 63mph were recorded at 3pm.
"It will stay like this for a few days, remaining cool and blustery," said Mott. "It will turn slightly less windy through the week and there should be drier conditions at the end of the week, particularly in the south."
Maximum temperatures over the weekend have been between 13C (55.4F) and 16C (60.8), he said, but will get up to 20C (68F) in southern parts of England this week, slightly above the average for this time of year.
There is still the chance for a return of the Indian summer conditions seen in 2011, when a temperature of 29.9C (85.8F) was recorded in Gravesend, Kent, Mott added.
At the beginning of the week however, the damp and dreary weather seen over the weekend will continue, with gale force winds expected in many areas on Monday.
The Met Office has issued a yellow wind warning for almost all of Scotland, as well as parts of North Wales, North West England and Northern Ireland, saying they could be accompanied by blustery showers and cause some disruption to travel.