Ashley Young's decision to join Twitter was as poorly measured as one of his wayward crosses. Sandwiched between a feckless performance at Anfield and another shameful dive against Crystal Palace, it is testament to his character that more Manchester United fans lined up to condemn him than their opposition counterparts.
Irrespective of his penchant for simulation, Young has never been truly liked by the majority of sussed United supporters. Usually, if a United player is accused of cheating, the following rallies around him. Cristiano Ronaldo and Ruud van Nistelrooy both had a tendency to go to ground easily but they compensated for their shortcomings to emerge as two of the most popular players of the Sir Alex Ferguson reign.
Young, though, will never be treated to a fraction of their adoration.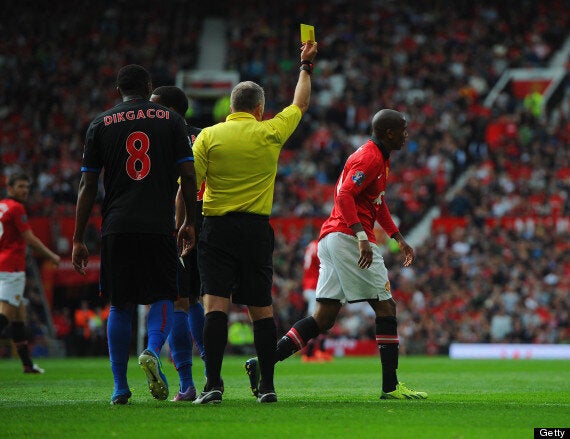 Young was deservedly booked against Palace
It is not entirely his fault; Young's arrival at United in 2011 was more bizarre than many care to acknowledge. Nani had been voted United players' player of the year, scoring nine league goals and setting up another 18. Ji-Sung Park had just enjoyed his best season in the Reds' 19th title-winning term and Antonio Valencia, his gormless Champions League final effort aside, had recovered startlingly well from a broken leg.
United, of course, were short of central midfielders (they still are) but Ferguson rushed out and signed another winger. Young's signing was confirmed, in the pre-Ed Woodward age, in June.
Ferguson had scouted Young and Aston Villa teammate Gabriel Agbonlahor for the majority of the 2010-11 season. He even mulled over whether to sign the England international in the January transfer window but held off, mindful Young's contract expired in 2012.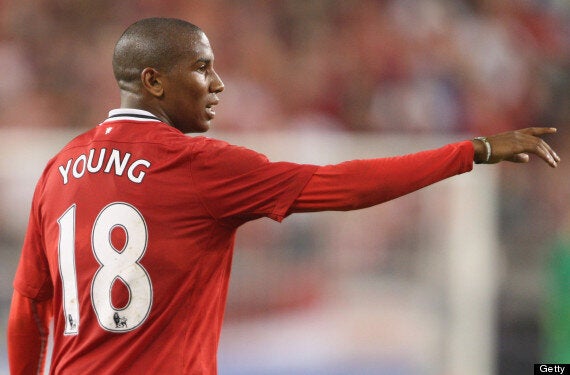 Young impressed on United's 2011 US tour
Supporters, meanwhile, attempted to fathom why Young, who had won just 15 England caps, was so coveted by United. A good player but good enough? He was overlooked for Fabio Capello's World Cup squad and seemed a more suitable fit for Liverpool, then on a crusade to buy British players, who ultimately settled on his one-dimensional Villa teammate Stewart Downing. Downing dominated Villa's player of the year awards, too.
His character was also an issue. Young had dived a couple of times in claret and blue and the 2007 internet shenanigans, when he was revealed to have stripped naked and pleasured himself live on the internet the night before games, was not forgotten.
It seems so long ago but Young actually started his United career superbly. He assisted Chris Smalling's header in the Community Shield win against Manchester City and made both goals in the 2-1 win at West Brom. Two weeks later, he scored two glorious curlers in the 8-2 rout of Arsenal and enjoyed an auspicious September, creating another Smalling header versus Chelsea and equalising in the Champions League against Basel.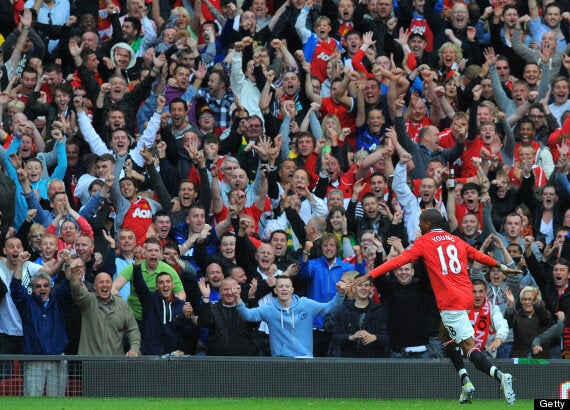 Young hit two past an abysmal Arsenal
Then The 6-1 happened. Young was one of United's brighter performers in Ferguson's "worst ever defeat" but an ankle injury kept him out for a month and he has never properly recovered from the lay-off. Even his corner-taking deserted (or was coached out of?) him.
An excellent two-goal display at Tottenham in March was sullied by two dives in two games in one week. At the same end he failed to con Moss, Young earned two penalties against QPR and Aston Villa. Former referee Mark Halsey, shedding some rare insight during his lamentable BT Sport commentary, officiated the latter fixture and admitted he would have booked Young for diving with the benefit of hindsight. Even Ferguson, loathe to publicly criticising his players, reprimanded him.
Despite collecting his first major medal a year later, 2012-13 was effectively a write-off for Young. He made 23 appearances without scoring and exacerbated his relationship with the fans whose affections he covets.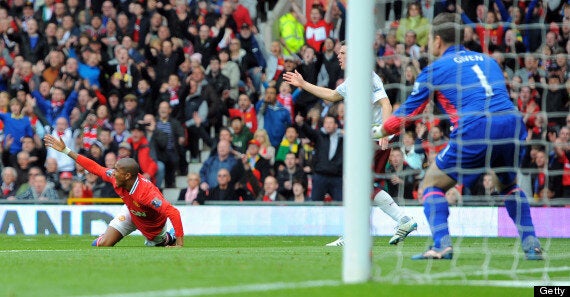 Young wins a controversial penalty against Villa in 2012
He is fortunate United haven't acted ruthlessly against his - or Valencia's - low standards but David Moyes' decision to rebuke him for cheating was as well-received by United fans as Robin van Persie's opener on Saturday.
Young's dive overshadowed a decent display but his withdrawal for Adnan Januzaj, as well as Marouane Fellaini's introduction for the dawdling Anderson, was one of Old Trafford's most popular double substitutions. In Nani, Wilfried Zaha, Januzaj, Shinji Kagawa and Valencia, there are five forward wingers many supporters would prefer to see play ahead of Young.
"I'm not a cheat," Young said in June 2012. "I'm not a diver. I go out to play football fairly and I've done that ever since I was young." If he failed to listen to Ferguson there is little chance he will heed Moyes' advice.