UPDATED 21:00, 16 September 2013 - new details about salvage operation
The Costa Concordia, which sank off the coast of Giglio, Italy, two years ago, has been successfully lifted off rocks in the first part of a huge rescue operation.
The project, which is said to be costing as much as £500m, was delayed after lightning storms hit the small island overnight.
The Costa Concordia was pulled off the rocks and moved on to a platform on the sea bed during the operation which is believed to be the biggest of its kind - no ship of its size has previously undergone such a rescue.
Some 32 people died when the cruise ship hit the rocks, but two bodies - a passenger and a crew member - have never been recovered.
More than 50 huge chains and winches have been used to free the ship at painstaking speed in order to prevent damage to the hull which has been exposed to the weather since the sinking in January 2012.
The Concordia's captain, Francesco Schettino, is currently on trial in Italy on a number of charges related to the sinking, including manslaughter.
It is alleged he ordered the ship off its prescribed course so passengers could wave at people on the shore. The liner then hit a reef which Schettino claimed was not mapped.
You can watch the live feed of the salvage operation in the video above. Click below for a slideshow of pictures from the day's event or to see the latest video packages on the project.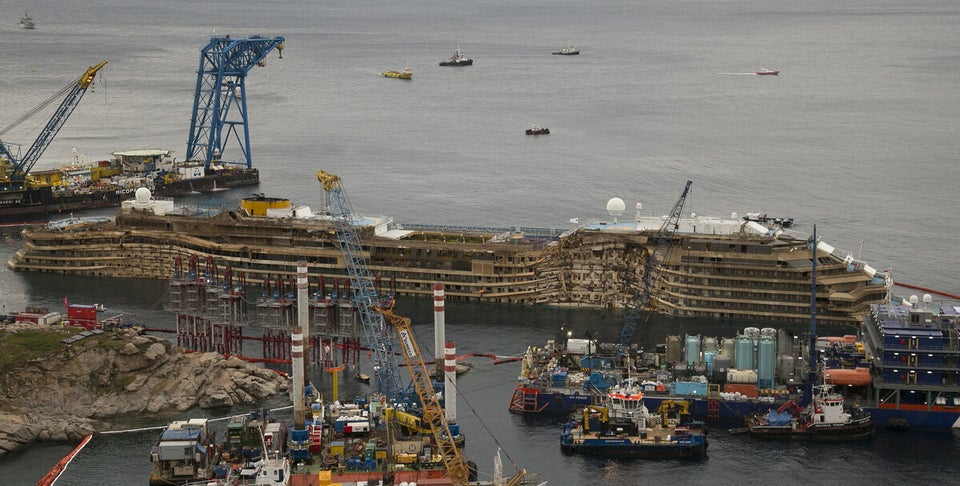 Engineers Attempt To Raise The Costa Concordia