The most dangerous sport for women isn't base-jumping (throwing yourself off things), tombstoning (diving off cliffs) or even extreme ironing (that one is self-explanatory).
Hell, it isn't even bog-snorkelling. The most dangerous sport (well, for American women anyway) is *drumroll*: cheerleading.
A bit of an anti-climax, isn't it?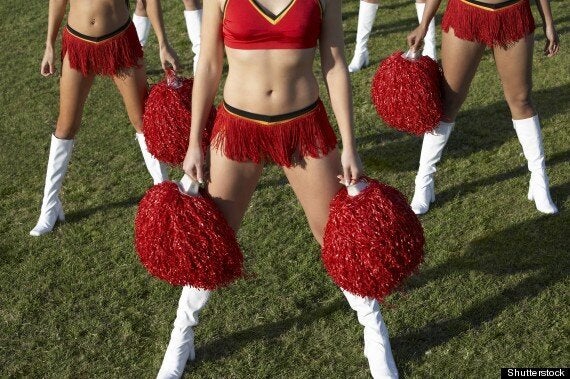 A new report has revealed that 66% of "catastrophic" sports-related injuries among women in the US are due to cheerleading. The distinction is made however between competitive cheer, which is doing stunts and formations as opposed to cheering from the sidelines of a football field.
"Since 1980, ER visits for wounded cheerleaders have more than quintupled, going from about 5,000 to over 26,000 in 2007. According to the data, the majority of the injuries happen to those who serve as the bases (the ones who prop up and catch teammates) rather than the fliers (the ones who get flung in the air)."
We may associate cheerleading with the US but the cheerleading scene proportionally, is just as big in the UK, says British Cheerleading Association's (BCA) Derek Kent. So what does it mean for those thinking about taking up cheerleading or already performing as cheerleaders?
The development director said to HuffPost UK Lifestyle: "I'm not saying they are right in their figures, but I don't know if I believe them. In Britain, there are over 60,000 cheerleaders, and the BCA is one of three major event providers. We do follow safety guidelines set by International Cheer Union and it has just been declared a sport by Sport Accord which is also the umbrella organisation for the Olympics.
"We do safety training for all the coaches and they aren't allowed to teach until they have had it." However, Derek admits, the regulation is being done by individual bodies because there are no legal guidelines at present. "We are working on it," he says.
What are the benefits of cheerleading though and why would anyone take it up? "Cheerleading is inclusive," Derek says, "and competitive cheer can involve any weight, both sexes. One of the staggering things is that in the US more than 50% of cheerleaders are males, and in the UK 20% are males."