Looming out of the night, the great hulk of the Costa Concordia, browned in sea water and rubbish, was heaved upright at last.
Soon it will head for its final port of call, the scrapyard. The cruise ship was righted nearly two years after the disaster A detail of the right side of the Costa Concordia
Italy's civil protection agency chief, Franco Gabrielli, was applauded by lines of firefighters, as he announced at a 4am press briefing that the operation known as parbuckling was complete.
In a statement, engineers said the 114,000-tonne shipwreck was "resting safely" on platforms that have been built 30 metres below sea level, where it will now remain throughout the winter as further salvage operations take place. The ship has now been hauled onto six platforms, 30 feet below sea level
A priority is finding the bodies of two remaining people, Maria Grazia Trecarichi, a Sicilian passenger who had been celebrating her birthday, and Russel Rebello, an Indian waiter. Engineers have seen no sight of them yet, the Guardian reported.
The project, which is said to be costing as much as £500m, was delayed after lightning storms hit the small island overnight.
Some 32 people died when the cruise ship hit the rocks. The crippled cruise ship was pulled completely upright early Tuesday after a complicated, 19-hour operation to wrench it from its side where it capsized last year off Tuscany
The Concordia's captain, Francesco Schettino, is currently on trial in Italy on a number of charges related to the sinking, including manslaughter.
It is alleged he ordered the ship off its prescribed course so passengers could wave at people on the shore. The liner then hit a reef which Schettino claimed was not mapped. Officials declared the salvage a "perfect" end to a daring and unprecedented engineering feat.
More than 50 huge chains and winches have been used to free the ship at painstaking speed in order to prevent damage to the hull which has been exposed to the weather since the sinking in January 2012.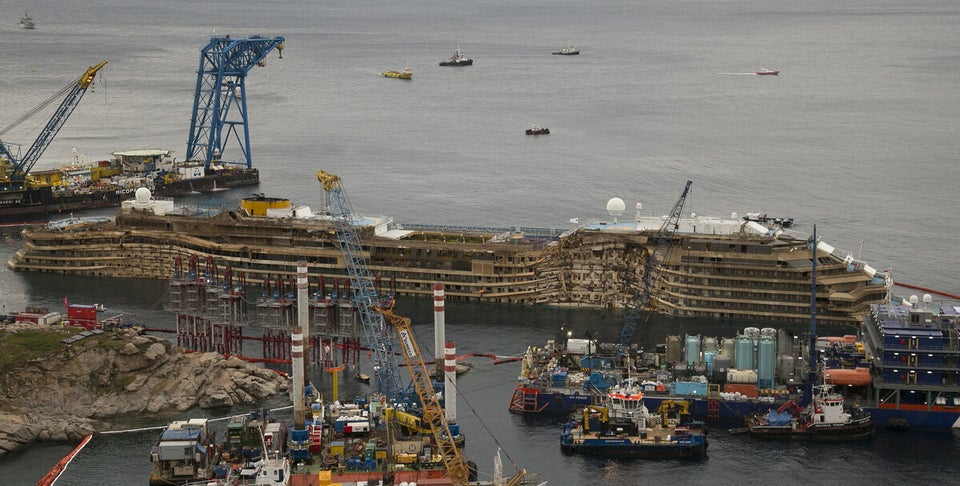 Engineers Attempt To Raise The Costa Concordia