News that Prince Harry had slept the night in a freezer would have once been front page fodder; the result of a large night out on the lash with the lads in Las Vegas.
But it seems the party boy has changed his ways.
Harry has spent the night in a giant freezer to simulate the gruelling conditions he will face when he treks to the South Pole this winter.
The 29-year-old, who will race with a team of injured British servicemen and women against United States and Commonwealth groups, was subjected to ambient temperatures of minus 35C, with wind speeds of 45mph.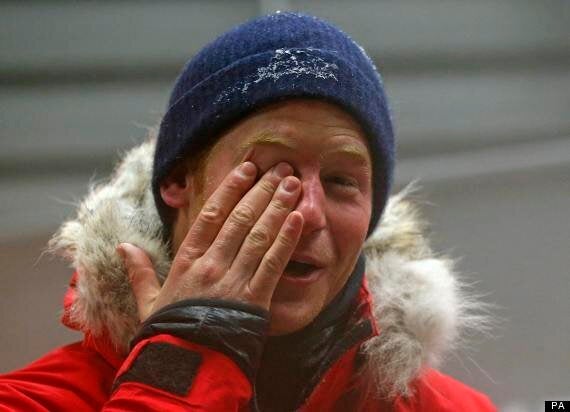 Ice cool: Prince Harry after his chilled out night
Harry, patron of the Walking With The Wounded charity, joked that it was a cold night's sleep. When asked what was the worst part, he said: "Going in."
He spent around 20 hours in the cold chamber at Mira in Nuneaton, Warwickshire, where cars and military vehicles are put through their paces.
Alongside his four teammates - all of whom have amputated limbs after sustaining injuries in Afghanistan - Harry practised with the clothing he will wear on the 200-mile expedition and learned how to avoid frost-nip and frost-bite
in the inhospitable climate in Antarctica.
After emerging from the huge testing facility, in which temperatures dropped to as low as minus 55C with wind-chill, the prince blew into his hands and rubbed them together to warm up as he chatted with his teammates over tea and biscuits.
The Virgin Money South Pole Allied Challenge will begin in late November and last around 15 days and the teams will trek between nine miles and 12 miles each day.
Swedish actor Alexander Skarsgard, star of True Blood, will head the US team, while English actor Dominic West, star of hit series The Wire, will race alongside the Commonwealth team.
Harry, who took part in the Walking With The Wounded trek to the North Pole in 2011 for five days, is patron of the Antarctica expedition.
He missed out on an attempt to conquer Mount Everest with the group last year because of his military commitments and he withdrew early from the successful North Pole expedition to attend his brother's wedding.