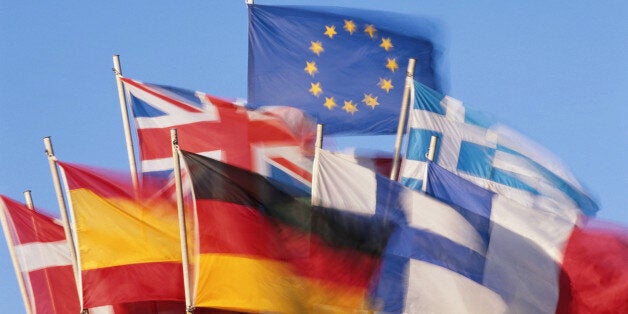 The European Union has "lost its way" in too many areas, the head of the Institute of Directors has warned.
Speaking at his organisation's annual convention in London, director-general Simon Walker said his group backed David Cameron's attempts to renegotiate the UK's terms of EU membership.
"In too many areas, Europe has lost its way. Its regulatory and legislative output ties up the efforts of small and medium-sized businesses. Efforts which could otherwise be spent on innovation, expansion and investment.
"The financial crisis, combined with some very real concerns about the politics of Europe, has presented this country with an opportunity to question the foundations of our EU membership. The IoD would be failing its members if we didn't engage in the debate around Britain's future relations with the EU."
Alan Halsall, co-chairman of the pro-EU referendum campaign group Business for Britain, said Walker was right to say Europe has lost its way.
He said: "Businesses across the UK are frustrated with the torrent of regulation and protectionism that they face from the EU."
However, the IoD boss warned against outright withdrawal from the European Union, arguing that Britain would remain "at the heart of European influence" and that there was "little appetite" among its members for such a move.
"As business leaders I believe we must make the case for a reformed, more equitable relationship - but one that still has Britain at the heart of European influence," he said.
"Reform is possible, if the political will exists. The IoD stands four-square behind the Prime Minister in his bid to renegotiate the terms of UK membership."
"High on the list must be the creation of a genuine single market. It's a scandal that 20 years after it was supposed to be completed, there is nothing close to a single market for services across Europe. Whether you're a carpenter or an insurance broker, the single market does little for you."
The IoD conducted a survey of its members' feelings about the European Union between February 28 and March 10 in which 1,326 members took part. The IoD has around 38,000 members in the UK and abroad.
The IoD's survey found that 57% backed the Prime Minister's EU renegotiation plans while 49% would vote for the UK to remain part of the EU if there was a referendum. Only 15% of the businesses surveyed would vote for a British exit.
Chancellor George Osborne, mayor of London Boris Johnson, entrepreneur Sir Richard Branson and shadow business secretary Chuka Umunna are among the speakers at the conference at the Royal Albert Hall, London.
Related