UPDATE: 'I Just Want To Amuse People': Northampton Clown Gives Chilling First Interview
The Northampton Clown's reign of terror may soon come to a dramatic end.
First appearing on Friday the 13th, the sinister figure has been stalking the streets of Northampton with a chilling smile and mysterious agenda.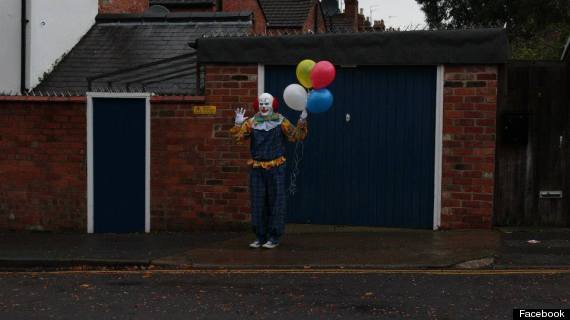 The spooky and rather terrifying clown has been baffling residents of Northampton
Now, the red-haired creepy man officially has a rival – Boris the Clown Catcher.
Boris has vowed to track down the unnerving figure, taking to Facebook to calm the worried citizens of Gotham Northampton.
"My name is Boris. I am the official clown catcher," he wrote on his official Facebook page.
"I am not here to scare anyone. I am not here to hurt anyone. I come in peace!"
Donning a blue superhero suit and sunglasses, he began his search for the Northampton clown last night, but has so far been unsuccessful in his attempts to secure a one-on-one meeting.
He said: "I wasn't able to get to Gloucester Avenue tonight to try and 'catch' the clown because I hurt my leg whilst I was climbing up a tree looking for him earlier!
"Hopefully the pain I'm in will all be worth it in the end when we are united with each other!"
Reaching out to the sinister-looking clown, Boris suggested a superhero alliance.
"Northampton Clown- if you are a kind clown (as you say you are), then we should join forces and save Northampton from all evil and danger!"
Hopefully the clown catcher will live up to his name soon as, ominously, the Northampton clown has promised a "big surprise" in the coming days.
"I'll be seeing you all very soon (in the day!)," the Northampton clown wrote on Facebook.
"But I'm going to lay low for a bit as I have a big surprise for you all hopefully due at the end of the week!!"