Walsall have apologised for a tweet sent to Wolverhampton Wanderers' Twitter account which branded their rivals "inbred b******s".
The League One club said their account had been hacked before the post was sent, but was later deleted.
Andy Butler's 69th minute goal was enough to give Walsall a shock victory at Molineux on Tuesday night, as Wolves suffered their first defeat of the campaign.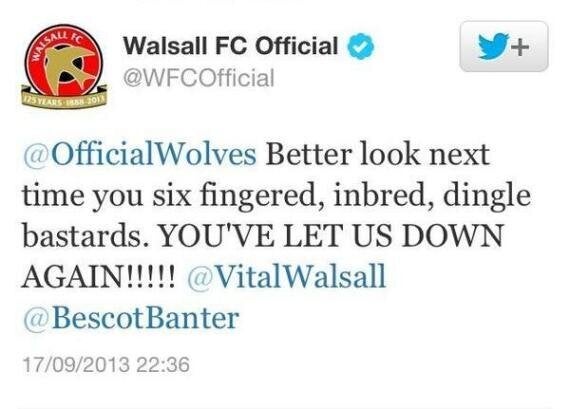 The tweet was screengrabbed by several users
"Our official account was hacked at 22:36 last night," Walsall said in a statement. "As soon as the club's Communications Team, who were at Molineux for the fixture, were made aware of the Tweet, it was deleted and an apology issued."
The club will launch a full investigation and promised the "strongest action" will be taken against the culprit.
Wolves responded: "We completely accept [Walsall's] explanation and this issue should not take shine off their victory last night. As far as we are concerned the matter is done and dusted."
Related