The Russian Coast Guard has reportedly boarded a Greenpeace ship and arrested the 25 activists on board, including six UK nationals, following a protest against oil monopoly Gazprom's Arctic oil drilling operations.
The environmental organisation has said armed Coast Guard officials boarded the Greenpeace International ship Arctic Sunrise and started rounding up the activists, assembling them on the helideck.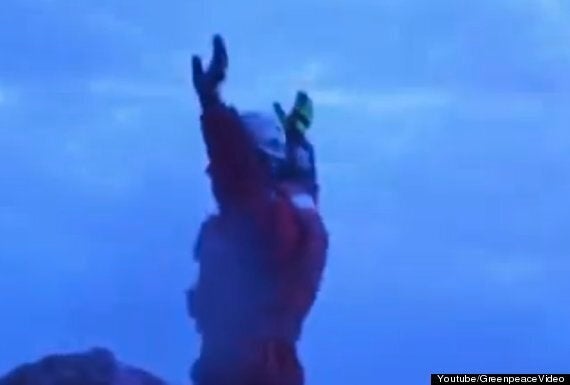 Greenpeace activists say they encountered an armed response after scaling a Gazprom oil rig
Greenpeace International activists locked inside the radio room said they saw other activists detained on their knees with guns pointed at them, the group says they have not heard from them since.
The Coast Guard had earlier arrested and held without charge two Greenpeace International activists who had scaled Gazprom's drill platform on Wednesday. The group say they encountered a "ruthless" armed response, and posted a video purporting to show the reaction.
The project is Russia's first effort to extract oil from the Barents Sea.
Greenpeace International executive director Kumi Naidoo said the boarding highlights "the extreme lengths that the Russian government will go to to keep Gazprom's dangerous Arctic drilling away from public scrutiny."
"We ask President Putin to restrain the Coast Guard and order them to holster their guns and withdraw. We are a peaceful organisation and our protest has done nothing to warrant this level of aggression," he said.
The Russian Ministry of International Affairs earlier claimed the Coast Guard intervened during Wednesday's protest because the Arctic Sunrise represented an environmental and security threat — a claim that Greenpeace International strongly disputes.
"The Coast Guard has boarded our vessels with guns, threatened our activists at gunpoint and fired 11 warning shots across our ship, so who is the real threat to safety here?" said Ben Ayliffe, head of Greenpeace International's Arctic oil campaign.
"Drilling for oil here in the Arctic is a grave environmental risk that must be stopped and this is why Greenpeace International came here, taking peaceful action to defend the environment on behalf of the millions of people around the world who are opposed to drilling operations.
"Make no mistake, the real threat to the Arctic comes not from Greenpeace International but from oil companies like Gazprom that are determined to ignore both science and good sense to drill in remote, frozen seas."