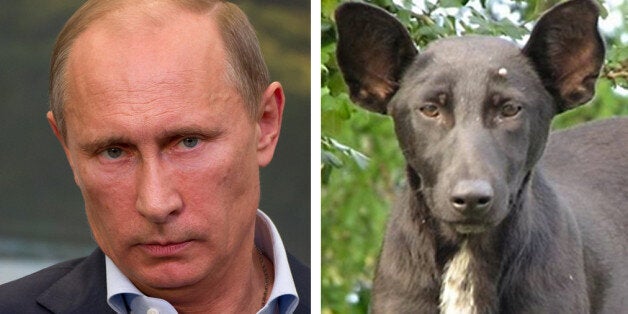 With an eerily similar similar stoic expression, a tight-lipped steeliness, and perfectly matching eye to nose ratio, it's hard not to draw comparison between a rather stern-looking dog and the Russian president, Vladimir Putin.
The internet has flown into a frenzy over the doggy doppelgänger, first reported on Obozrevatel.com, with many agreeing that the Staffordshire terrier and German shepherd mix from central Kiev is a dead ringer for the former KGB agent.
Comedian Graham Norton asked wryly on Twitter: "Geeeeeenius! I wonder if it bites the gays?"
Another Twitter user wrote simply, "Vladimir Poochin."
Reports emerged in 2003 that Russian lawyers had planned a law suit against Harry Potter producers Warner Bros over apparent similarities between Putin, and CGI Chamber of Secrets star Dobby the elf.