A couple whose daughter cancelled her wedding just weeks before she was due to walk down the aisle have donated the lavish food, venue and entertainment to a reception for homeless families.
Rather than calling off the plans and losing their deposits, parents Willie and Carol Fowler decided to press on with the arrangements – and simply updated the guest list to accommodate 200 homeless people instead.
And they chose Atlanta's Hosea Feed the Hungry – a charity their daughter Tamara had volunteered for in the past – as the recipient of their goodwill.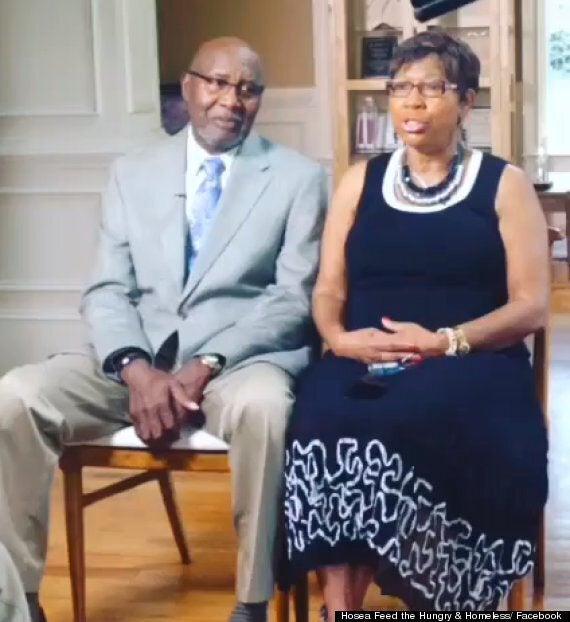 Carol and Willie Fowler decided to press on with the wedding reception - simply altering the guest list to accommodate 200 homeless people
Without discussing their daughter's reasons for calling off her nuptials, Carol Fowler explained their decision to ABCNews.com: "We went home that evening and my husband woke up the next morning and I was in the process of cancelling out the venue and he said, 'No, what we'll do is donate it to Hosea Feed the Hungry."
"It was a vision," Fowler said of her husband's idea. "He said he had prayed on it during the night and God had directed him and that's what we were going to do."
Bosses at the charity initially thought the proposal of a four-course meal for the city's destitute was a joke – but the Fowlers insisted the 15 September event – complete with gold leaf crockery and crystal stemware - was for real.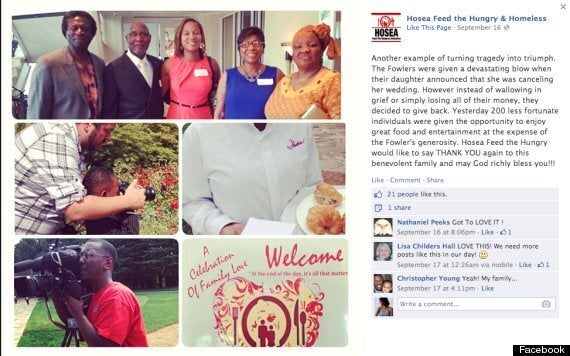 And the big-hearted couple attended the event, along with Tamara, with Fowler telling Here & Now: "We're very pleased that she's handling it so well. She was delighted to see and know others had an opportunity to enjoy something, rather than allow it to go to waste."
What's more, the event fell on the day before Willie's 70th birthday - thereby doubling the celebrations and leading him to exclaim: "I felt like a birthday king for real!"
The event was so successful the charity christened it the First Annual Fowler Family Celebration of Love – with plans for a follow-up – funded by sponsors, next year.
Fowler added: "Events are cancelled, and sometimes for unknown reasons. Do not allow that opportunity to go to waste. Call up your favourite charity. Give them an opportunity to use that for people that will not have an opportunity, perhaps in life."
Popular in the Community