A man reported to be an off-duty SAS soldier, who went back into the besieged Nairobi shopping centre 12 times and rescued 100 people, has been hailed as a hero.
The soldier, who cannot be identified, was having a coffee in the Westgate mall when armed gunmen stormed it on Saturday, The Daily Mail reported.
A friend said: "What he did was so heroic. He was having coffee with friends when it happened.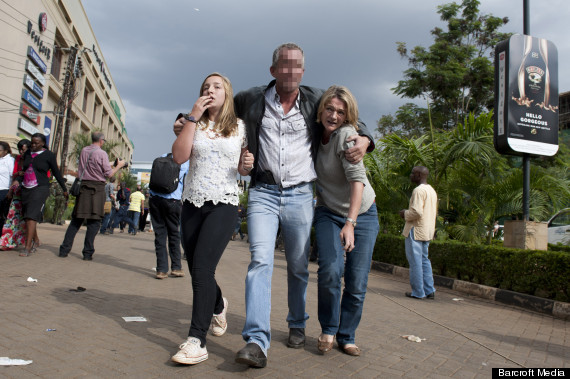 The man helping two women out of the building. A handgun can be seen tucked in his trousers
"He went back in 12 times and saved 100 people. Imagine going back in when you knew what was going on inside."
The three-day siege is reported to be coming to an end with Kenyan security forces claiming they have taken control of all floors of the building.
More than 60 people have been killed including at least six Britons. Around 170 people have been injured.
The Somali Islamist group, al-Shabab, has claimed responsibility and there is speculation the British former wife of one of the 7/7 bombers was one of the attackers.
Samantha Lewthwaite, nicknamed the 'White Widow', fled to Somalia last year and has been hunted by security services ever since.
The body of a white woman found amongst the militants has yet to be identified.
Astonishing stories have emerged for the tragedy including that of a four-year-old boy who confronted a terrorist gunman, telling him: "You're a very bad man, let us leave," the Sun reported.
He was allowed to leave along with his sister and mother and was even given Mars bars by the attacker.