The papers might be full of whispers of in-fighting and lack of leadership, the airwaves ringing with damage from Damian McBride. But inside the Labour party conference hall, Ed Miliband's party seem united, for now.
Reminding the Huffington Post UK that he had supported Miliband "from the very start", in 2010, Benn added: "Someone who watched that speech who hadn't seen him speak before would have got a really good idea of who he is and where he comes from and what he believes in."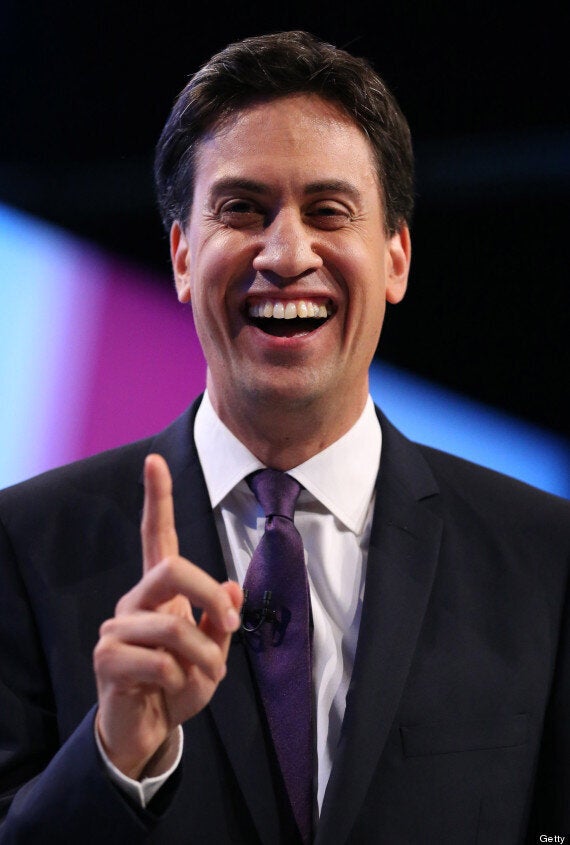 Ed Miliband is pleased with himself, and has pleased his party too
In public, members of the Blairite wing of the party were full of praise for the Labour leader, too. Charles Falconer, Tony Blair's former justice secretary and a close ally of David Miliband, said he was pleased with the speech.
"Ed was optimistic about the future, he defended the past and he sent the party home from conference with a spring in its step," Lord Falconer told HuffPost UK.
Shadow health secretary Andy Burnham was beaming outside the conference centre. "The NHS section was fantastic," Burnham told HuffPost UK, referring to the standing ovation that the Labour leader's defence of the health service produced from the crowd in Brighton.
Despite the recent Mid Staffs scandal, polls show the Opposition has a consistent lead over the Tories on the NHS so it makes strategic sense, say Labour strategists, for the party high command to focus their energy and attention on it.
In a repeat of his 2012 conference performance in Manchester, Miliband spoke for 62 minutes without any notes or the assistance of an autocue.
He was passionate, at times angry, even relaxed, with his left hand slung in his trouser pocket. "I don't know any other British politician certainly who can deliver a speech noteless for over an hour [and] so powerful, so resonant with the public," former cabinet minister Peter Hain - a close ally of the Labour leader - told HuffPost UK.
"I think anyone who before that speech was asking themselves could Ed Miliband be prime minister now knows the answer and I am sure will be convinced by him and see him as a prime minister in waiting."
Union bosses, with whom Miliband has had somewhat frosty relations since his pledge to cut Labour's official ties with their members, came out to praise the speech too.
"It was a very polished performance, with the welcome theme that Britain can do better," said Paul Kenny, leader of the GMB union.
"That was a completely different Labour leader to the one we saw three years ago. No prompts, no plastic performance - he has grown into being a prime minister."
Steve Murphy, general secretary of construction union Ucatt, was unsurprisingly keen on Labour's commitment to be building 200,000 homes a year by 2020.
"This is the first time that a political party is seriously addressing this crisis which is affecting Britain socially and economically," he said.
Unison leader Dave Prentis said the "inspirational" speech was the best he had ever heard Miliband deliver.
"He showed he understands what people are going through. He offered firm commitments to help hard-pressed families.
"He gave a vision for the many, not the few."
But Unite leader Len McCluskey, the man whose name has become synonymous with attacks from David Cameron on Labour's ties with unions, was more cautiously, hinting he would have preferred an even bolder speech.
"Ed Miliband should never be afraid to articulate a courageous vision for this nation because that is what these extraordinary, fearful times urgently need," he said.
But, he added, it was "good to hear Ed mention the role of unions positively in delivering the minimum wage, challenging in-work poverty. This is what we do day-in, day-out."
Back in Westminster, Tories and Lib Dems focused their attacks on the most instantly popular of Miliband's pledges - to freeze energy prices until 2017.
Energy minister Ed Davey said it was a "plan that just won't work" and said there was a risk of blackouts.
In a statement released shortly after the speech, the Lib Dem said: "When they tried to fix prices in California it resulted in an electricity crisis and widespread blackouts. We can't risk the lights going out here too.
"Fixing prices in this way risks blackouts, jeopardises jobs and puts investment in clean, green technology in doubt."
Related