Ed Miliband has pledged that his Labour party would give people the right to vote from the age of 16, to a standing ovation from the Brighton conference floor.
He outlined a tough stance on land-grabbing developers, telling them they must "use or lose" the land they own. And he promised that Labour will tackle the housing crisis with 200,000 more homes a year and freeze gas and electricity prices until 2017, if voted into power.
Keeping schools open for breakfast clubs and afterschool clubs, free nursery care and a promise to "strengthen" the minimum wage were key pledges aimed at attracting parents and workers.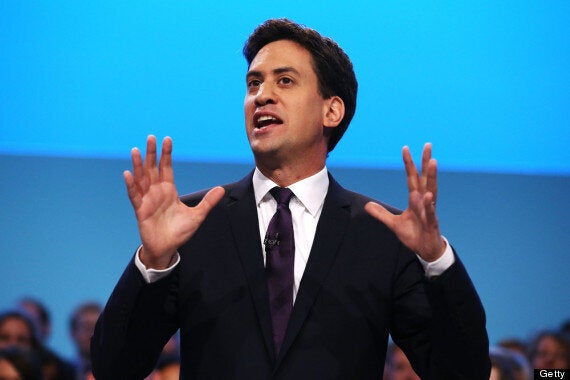 Labour party leader Ed Miliband delivers his keynote speech at the annual party conference
Today, it was confirmed. "Let's give the vote to 16 and 17-year-olds and make them part of our democracy," Miliband said, a pledge with a rousing reception in Brighton but mixed reaction on social media.
Mistakenly introduced by Sky News' political editor Adam Boulton as David Miliband (for about the billionth time), Miliband acknowledged doubts about his leadership of the party early on in his keynote speech at the Labour party conference, which he delivered without notes.
"Leadership is about risks and difficult decisions. It's about those lonely moments when you have to peer deep into your soul.
"It was really hard for my family," he admitted. "But I believe Labour leaders turn the page, and I was the best person for the job."
Milband was at his best at his most self-deprecating, joking about a girl who called him an "action hero" only later to find out she had concussion ""She said I was an action hero who mysteriously appeared out of nowhere and she said what added to all the confusion was that Ed was actually attractive and not geeky at all. I promise you she said that. Don't laugh!"
And making a dig at the snaps of Cameron in a Mickey Mouse towel on the beach in Cornwall, he joked: "I promise if i become Prime Minister, I wont take my shirt off in public, it's just not necessary is it?"
Miliband's mantra was "Britain can do better than this" - comparing it with the emotion that had powered Britain out of the Second World War under a reforming Labour government.
In Britain, he said, there is "a feeling that is so threatening to those who want to keep things as they are, words that are so basic and yet so powerful, so modest and yet so hard to believe.
"Six little words that say: Britain can do better than this. We are Britain, we can do better than this."
"Are you satisfied with a country where people are working harder, for longer, for less? I'm not satisfied."
The headline pledge from the speech was energy prices, a freeze until 2017.
"The companies won't like it because it will cost them money. But they have been overcharging people for too long because the market doesn't work. It's time to reset the market," Miliband said.
He accused the coalition Government of allowing energy prices to get out of control because David Cameron did not have "the strength to stand up to the strong".
Most said it was the leader's manner on TV and radio which influenced their negative opinion, but said that his stance on military action in Syria and News International are seen as having enhanced his image.
The Labour leader outlined his party's manifesto pledge to cut taxes for small businesses and to build 200,000 new homes a year by 2020
Miliband had seen the data. Both of those popular decisions were name-checked early in the speech. Standing up to Murdoch, he said "hadn't been done in the past, but it was the right thing to do, so I did it".
And on Syria, he said: "It would have been a rush to war, it wasn't the right thing for our country, so I said No. It was the right thing to do.
"The real test of leadership is not whether you stand up to the weak - that's easy. It is whether you stand up to the strong and know who to fight for."
The other dark shadow, blotting out the Brighton sun at the party's conference, has been the revelations of former Gordon Brown spin-doctor Damien McBride, about Labour's back-stabbing culture.
Miliband alluded to the painful revelations, suggesting the days of in-fighting were gone. "Some people will say you've got to leave decency behind in politics. Well I say they're wrong," he said. "Because only if you reach out and listen can you do the most important thing a politician can do - the most important qualification for a prime minister - that is the ability to walk in the shoes of others and know who to fight for."
Throughout the speech, Miliband name-checked his "soapbox" tour of British towns. Tories won't solve the cost of living crisis "because it is not an accident of their economic policy, it is their economic policy," Miliband railed.
In a scathing retort to Tory peer Lord Howell's quote that fracking should be sited in the "desolate" North East, Miliband said Labour should remind the Government of the lives of communities in every corner of the UK: "People go out to work, they love their kids, they bring up their families, they care for their neighbours, they look out for each other, they are proud of their communities, they hope for the future.
"The Tories call them inhabitants of desolate areas, we call them our friends, our neighbours, the heroes of our country."
"They used to say a rising tide lifts all boats. Now the rising tide seems to lift the yachts," he quipped.
He accused the Government of "turning a blind eye" to employment agencies which only recruit overseas, "shady" gangmasters who exploit foreign workers and "rogue landlords" who cram migrants into overcrowded houses.
"It's a race to the bottom. Not under my government," he repeated.
He accused the Tory leader of planning to use their conference next week to "resume his lap of honour for how brilliantly he's done" and claiming credit for having "saved the economy".
But the truth was that he and Chancellor George Osborne should be on a "lap of shame".
He attacked Cameron's "global race" rhetoric, calling it a race to the bottom when it came to low wages and rights for workers.
"He believes in a single global race but what he doesn't tell you is that for Britain to win the global race, you have to lose: lower wages, worse terms and conditions, fewer rights at work," Miliband said of the Prime Minister.
"It is a race to the bottom. Britain cannot and should not win that race."
Popular in the Community