In what must be an international diplomacy/environmentalism first, Greenpeace and Vladimir Putin are in agreement over something.
The 30 Greenpeace activists, including six Britons, were held last week when armed Russian officials boarded their vessel the Arctic Sunrise in the Arctic's Pechora Sea, near to oil company Gazprom's platform. The Greenpeace crew pictured aboard the Arctic Sunrise
The ship and protesters have been brought to the port of Murmansk, and Russian authorities said they were investigating charges of piracy, which carry a jail term of 10 to 15 years, against the activists.
Putin, speaking at a forum on Arctic affairs, said: "It's completely obvious they aren't pirates." But he added that Russian authorities did not know who was trying to seize the oil platform.
"Especially in view of the events in Kenya, really, anything can happen," he said, in a reference to the terrorist attack on a shopping mall in Nairobi.
Story continues after slideshow...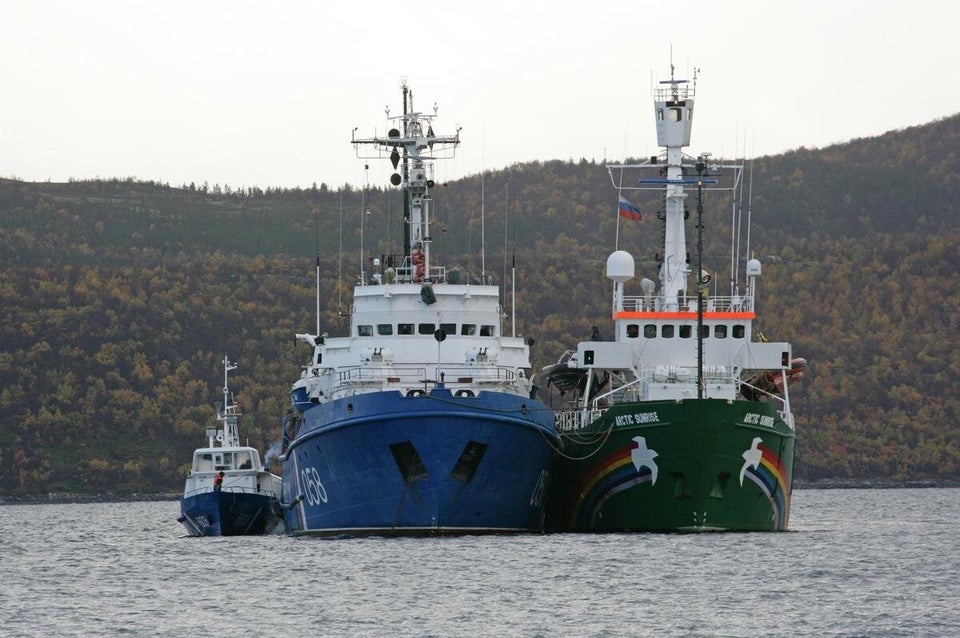 Greenpeace
Greenpeace International executive director Kumi Naidoo said: "We welcome President Putin's recognition that our activists are clearly not pirates and acted purely out of concern for the Arctic environment.
"Our climbers attempted to attach themselves to the side of the platform to raise attention to the threat of Arctic oil drilling in this fragile environment and the urgent need to deal with climate change.
"This was a peaceful protest against Gazprom's ambitions to be the first company to pump oil from icy Arctic seas."
He added that claims that Russian border guards who confronted the activists were unaware who was behind the protest were "not credible".
"Our ship bears two large rainbows, two peace doves and has Greenpeace emblazoned on each side. They followed us for over 24 hours before the protest began. We have a long history of peaceful activism in Russia and are well known to the authorities." Putin was speaking at a forum on Arctic affairs
Greenpeace is campaigning against attempts by companies to extract oil from the waters of the Arctic, warning that a spill would be highly environmentally damaging and extraction of more fossil fuels will add to climate change.
Gazprom's plans to start drilling from the Prirazlomnaya platform in the first quarter of 2014 raised the risk of an oil spill in an area that contains three nature reserves protected by Russian law, campaigners said.
Related