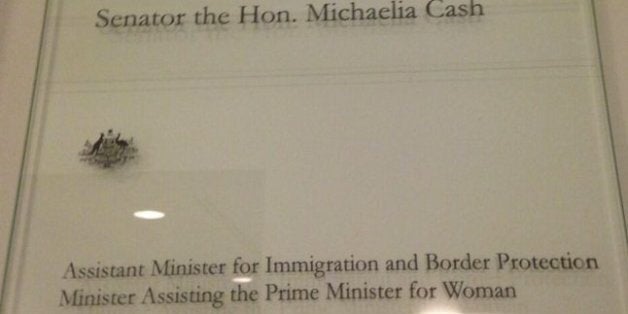 Tony Abbott has been left red-faced after a typo highlighted the singular number of women in the Australian Prime Minister's cabinet.
The male-dominated cabinet, unveiled last week, is made up of 18 men and one woman: foreign minister Julie Bishop.
At the same time he announced his new government, Abbott also revealed that he was taking on ministerial responsibility for women's affairs.
Now, after a unfortunate typo, the parliamentary office plaque for Senator Michaelia Cash had to be swiftly replaced after it accidentally labelled her Minister Assisting the Prime Minister for Woman.
The correct title, which is still somewhat ambiguous, is "Minister Assisting the Prime Minister for Women."
A former Labor MP, Craig Emerson, tweeted a picture of the sign, saying: "Great to see Abbott Government is committed to representing the interests of one 'woman'."
Dr Emerson went on to suggest that the "one woman" might be Gina Rinehart, Australia's wealthiest person, who stands to gain from Mr Abbott's plans to abolish Labor's mining tax.
Abbott, whose Liberal-National Coalition thrashed Labor in the elections, has faced accusations of sexism before.
Former PM Julia Gillard gave a memorable speech in Parliament branding him a misogynist:
He has also launched strident attacks on abortion and recently urged support for a Liberal candidate because she had a "bit of sex appeal".
A new, correctly-worded plaque was placed outside Ms Cash's office today.
Popular in the Community