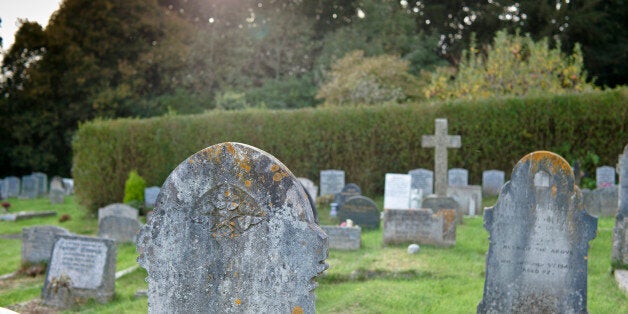 British bodies could soon start piling up, with cemetery experts warning of a looming "crisis."
Now, questions have been raised over whether or not grave plots should be re-used to address the shortfall in spaces.
Julie Rugg, of the University of York's Cemetery Research Group, said there needed to be a rethink about reusing graves and at the role Cemeteries play in society .
"We spend a lot of time thinking that's a problem, something we don't want - it brings money back into our cemeteries, it brings people back into our cemeteries," she told BBC Breakfast.
"Cemeteries become vibrant places then, where you can meet people, not these places that are a little bit abandoned, a little bit sad and lonely and neglected.
"When you go on to the continent, cemeteries are often full of people. That is not a bad thing."
Bicester in Oxfordshire is among the worst-hit areas, with space for graves running out so rapidly that cemeteries are burying dead people in car parks and under pathways.
Worryingly, the town is due to double in size over the next 10 years with the development of 12,000 houses.
Bicester's cemetery manager Chris Johnson has said the situation is "critical."
"We're getting to two years of burials remaining so we are desperate to find other means - other land for a new cemetery ground," he said.
But James Porter, from Bicester Town Council in Oxfordshire, said creating new graveyards was an expensive and laborious process because of stringent environmental rules and negotiations with landowners.
And while reusing graves would alleviate problems, it comes with its own issues, he told the BBC.
"In itself, that is a very difficult job because the graves actually belong to the families of the bereaved for a century," he said.
"So even after 100 years you have to find the family of the bereaved and get their permission to reuse the graves."
The cost of dying has risen to an average £7,622 - a 7.1% increase on last year, according to a report earlier this month by insurer Sun Life Direct.
The figure, which includes costs such as probate, headstones and flowers as well as the funeral, varies significantly across the regions, with London the most expensive at £9,556. Wales was the least expensive with an average cost of £6,096.
The average burial now costs £3,914 and cremation £2,998, having risen by 69% since 2007 and cremation fees by 51%.
The cost of a funeral has also increased by 5.3% since last year to £3,456, or 80% higher than in 2004.
The head of the Institute of Cemetery and Crematoria Management, Tim Morris, said this is a "seriously worrying situation.
"We are heading towards many burial grounds becoming full. There is nowhere for the bereaved people who prefer burial to bury their dead.
"It's a serious situation that really needs tackling now - the knowledge of this problem has been around for a long time and government inaction over the last couple of decades has led us to a looming crisis in our burial grounds."