And while the British food scene of yesteryear may have been something of a mockery, things are changing. Europe is leading the way in the street food revolution and Britain is hitching a ride.
Suddenly good food has been taken out of fancy pants restaurants and brought to the streets. Anyone with a chopping board and fresh ideas can roll up their sleeves and get stuck in. And it's bloody exciting.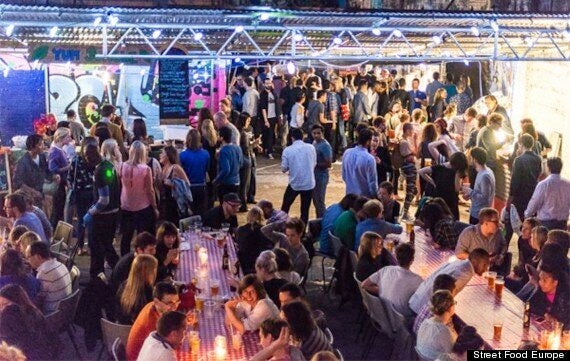 It's food on the street, pure and simple.
Traditionally in the UK that meant pies, eels and oysters, but as we've embraced street food culture, offerings have become more cosmopolitan. Now we've got everything from pad thai and noodles to soups and curries.
The key thing is that street food should be portable: two hands, no cutlery. You should be able to walk from one bucket of beer to another with your food in your hands.
How does street food compare with eating in a restaurant?
The atmosphere is different, it's much more sociable and fluid. You get to move around, dip in and out of conversations, and, most importantly, you won't end up stuck sitting next to someone you don't want to talk to.
When I first got involved in street food I was frowned upon for wanting tables at events. Purists would say you shouldn't have them, but I think it's nice to have somewhere to plonk your plate down and just eat.

How has street food evolved?
Street food is not just a fad or a summer thing anymore, there are talks of going inside for winter and trading all year long. Now there are patio heaters, rugs and newspapers - it's not as rough and ready as it used to be.
And it's not just in London. Other places such as Leeds, Glasgow and Birmingham are also seeing a blossoming street food scene.
How has street food impacted on the industry?
London used to be about good food for the rich, but street food has democratised it.
Restaurants are inspired by what is going on in the street; supermarkets trying to freshen up shelves with food served on pavements of London. Street food has injected new blood when people were running out of ideas.
It's always fresh and innovative, there's a constant challenge to keep people interested. Pop-up settings are perfect because permanence is the enemy of freshness.
I believe that the next Jamie Oliver or Gordon Ramsay will come from the street, not the kitchen of some angry French chef. Kids don't have the patience or inclination to work for 10 years at someone's beck and call. They know that if they train they can be doing their own thing in a year - set up a kitchen on wheels, customise it, create their own menu.
How do people get started?
Normally you couldn't set up a normal business without a venture capitalist, but for £500 you can get some trestle tables and start cooking, and for £5000 you can get a van with little kitchen.
People do it alongside their normal jobs. Take Tinder Box for example, they have a caravan with a kitchen, they roast peaches and do pulled pork. Both have full-time jobs but do farmer's markets and festivals on the weekend.
What makes good street food?
I look for the whole thing. To be part of British Street Food Awards you have to have whole package: the food has to be special, with great presentation, patter and experience.
It has to be fun: artisan candy floss made out of Bakewell tarts or a trader from stockholm doing tacos with a nordic twist; extraordinary vans and tricycles; and of course the theatre around it all - there can be a quite old-fashioned performance atmosphere around the chefs' creations.

How can you tell if street food is hygienic?
The fact is you can see everything that's being served and how it's being prepared. If the person serving has dirty fingernails or if you don't like the knives or work surfaces you don't eat there. In a restaurant you don't know what's going on behind closed doors, it's all hidden. Also, things like water and sanitation are heavily policed at street food events.
Is there anyone exciting on the street food scene who's caught your eye?
That's like asking a father to pick his favourite child!
Stan, who's just 13 and has his cart, could definitely be my child. He tried his first snow cone in New York, got hooked, bought the equipment and brought it back to Sussex. He's made his own logo and everything.
Originally his syrup was made by crushing strawberry bonbons and adding water, but he's upped his game so his recipe, rhubarb and hibiscus, is now both British and seasonal. He admitted that he doesn't even know how to spell hibiscus. So adorable.
How did you get involved in the street food movement?
I used to be a restaurant critic and felt that London needed a shake up. Brits are huddled up behind their desks having sandwiches at lunch time, whereas in New York you can eat the world in a couple of blocks.
Good quality food should be for all of us and that's what street food offers.
I also thought London was ready, people were having adventurous holidays abroad and eating street food in exotic markets.
When we first started The British Street Food Awards we struggled to fill a car park and the prize was a mixer. Last year the prize was a business make over from M&S and the right to serve food at the Olympics. It shows how perceptions have changed.
In the beginning we'd have never been trusted to feed Olympic athletes, we were still the dodgy bloke pushing a rusty cart round Trafalgar Square at 4am selling food to drunk.
Street Food Europe is supported by Trinity Kitchen. Find out more here