Getty
Manchester United trained on the eve of their Champions League clash with Shakhtar Donetsk on Wednesday.
Fabio da Silva and Wilfried Zaha didn't feature having played for the reserves on Tuesday night and Adnan Januzaj, who also played and scored, is still ineligible.
United beat Bayer Leverkusen convincingly in their group stage opener but have since lost their two Premier League games to Manchester City and West Brom.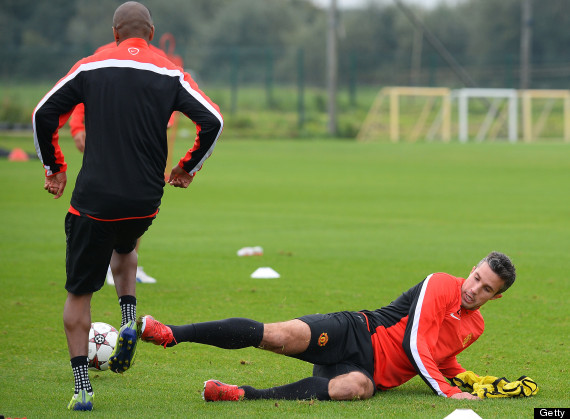 Van Persie is in line to make his first start in two weeks
Shakhtar coach Mircea Lucescu, who was Internazionale coach when United defeated them 3-1 on aggregate in the 1999 Champions League quarter-final, believes United's poor form is owed to Moyes' rotation.
"There will always be a change of philosophy under a new coach and every coach needs time to work in a proper way," Lucescu said on Tuesday morning. "This is why David Moyes is facing difficulties at this stage.
"But we have analysed the United games and of course we noticed there are always changes in the squad, maybe four or five players (each time).
"This rotation means the links between the players can be affected and I think turnover can cause a lot of problems sometimes. We have also discovered that here.
"The other big teams in the English championship, such as Chelsea, Liverpool and Arsenal, are not rotating the team as much as United and maybe that is a factor."
Moyes made seven changes to the team which were trounced 4-1 at Saturday for the weekend loss to West Brom.