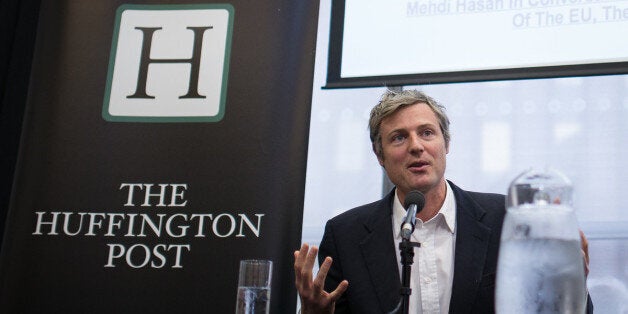 Conservative MP Zac Goldsmith has launched an outspoken attack on the Daily Mail for its founder's support for "the Nazi cause", in the wake of the newspaper's relentlessly hostile coverage of Ed Miliband's late father.
Goldsmith said Miliband had a "reason to react" to the Mail's "appalling article" on Saturday – headlined 'The Man Who Hated Britain' - and accused the Mail and its owners, the Rothermere family, of doing "more to pursue the Nazi cause prewar" than any other publication.
He said it was "odd for a newspaper to judge a man on the basis of the history of his family when that newspaper is owned by a family that did more to pursue the Nazi cause prewar than any other [publication]".
Referencing Harold Harmsworth, the first Viscount Rothermere and proprietor of the Mail, who lavished praise on the Nazis in the run-up to the Second World War, Goldsmith remarked:
"[Joseph] Goebbels himself wrote endless documents about Rothermere, describing him as being a strong ally and strongly against the Jews. Those are the words he used. 'Strongly against the Jews'. Has Rothermere aplogised? Have we ever had an apology from the Mail, or the Mail group, in relation to their history."
The current Viscount Rothermere, Jonathan Harmsworth, is the chairman of DMGT, the publisher of the Daily Mail.
"Maybe they'll say it doesn't matter don't judge a paper or current person on the back of their history. In which case. Leave the guy alone."
The MP's comments are the strongest condemnation of the Mail so far from a Conservative Party figure. Speaking on the Today programme on Tuesday morning, David Cameron said he understood Miliband's anger about his father but wouldn't criticise the Mail, saying he had not read the original piece. Health secretary Jeremy Hunt refused to condemn the Mail as well, preferring to highlight Ralph Miliband's opposition to free markets in an interview with the BBC News Channel.
Speaking at the fringe event, the Tory backbencher also recalled the Mail's attacks on his own late father, Sir James Goldsmith, the billionaire businessman and founder of the Referendum Party.
"The Daily Mail are always going for my father who died in 1997," he told the 100-strong audience in Manchester. "So I am used to that aspect of it."
In December 2011, the Mail's Ephraim Hardcastle column accused Goldsmith Snr of having claim that the victims of the Holocaust "lacked the initiative to get out" and the paper was forced to later "clarify he said no such thing".
Goldsmith Jnr revealed that he "waged war against the Daily Mail, not with lawyers, but using my sister [Jemima] and her army of Twitter followers, and, within 24 hours we got a grovelling letter of apology from [Mail editor Paul] Dacre himself, which is now up on the wall in my loo. It's something I'm very proud of."