David Cameron has joked that unflattering pictures of him in the media wearing a towel on the beach at least proved to the public he had "the stomach for the fight".
And he sought to turn Ed Miliband's mockery of his physique back on the Labour leader and his promise of an energy bill freeze, saying: "You keep your shirt on; I'll keep the lights on."
In a light-hearted interlude to his keynote speech, he told activists: "I know it will be tough. People will ask have we got what it takes.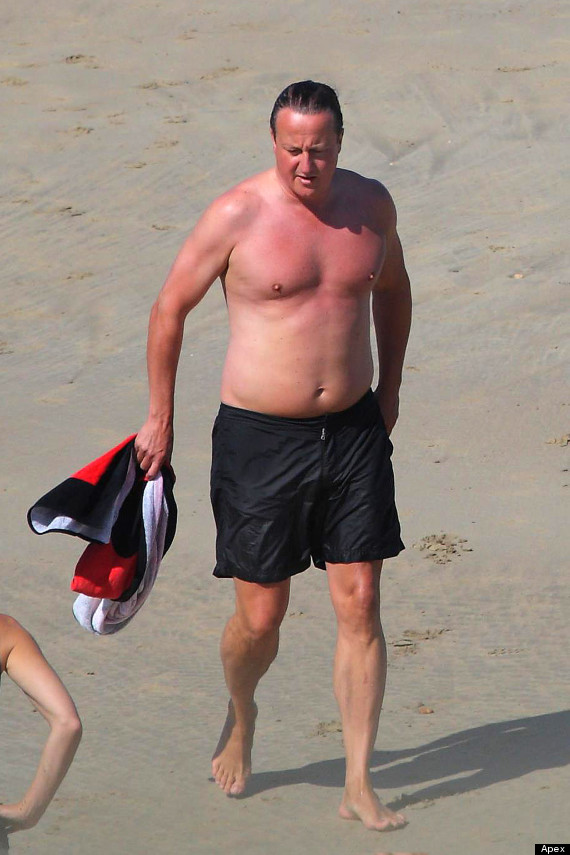 David Cameron strides through the sand on Cornwall's Polzeath beach on Thursday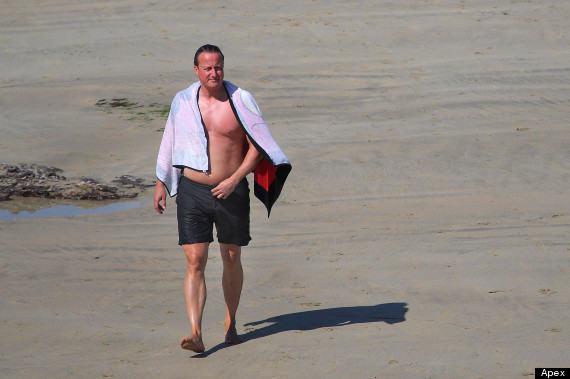 The PM looked a little sunburnt but otherwise in rude health
"Well if you saw those pictures of me on the beach this summer in Cornwall you'll know one thing: I've got the stomach for the fight."
Labour has teased the Prime Minister over the images of him struggling awkwardly to change into his beach shorts, with shadow chancellor Ed Balls saying his Mickey Mouse towel was "surprisingly small".
Mr Miliband said in his conference speech last week that if he made it to 10 Downing Street, "I won't take my shirt off in public".
"I mean it is just not necessary, is it? I'll try and keep the promise."
Mr Cameron secured a good laugh among supporters as he hit back with a retort attacking the energy policy which some firms have warned could result in blackouts.
"In his speech last week, Ed Miliband promised that he would never be photographed with his shirt off in public," he told them.
"Ed, after hearing that speech, here's the deal: you keep your shirt on; I'll keep the lights on."
Mr Cameron added: "In my job I get to visit some amazing factories. One of my favourites is Jaguar Land Rover. Not only because they let me get in a car all on my own and drive around quite dangerously.
"But it is better when I went to the Cowley works and they let me drive the millionth Mini off the production line. It was a huge treat, the only problem was that when I got to the end I turned the wrong way, although you will be relieved to know on this occasion, I turned right rather than left."
Mr Cameron also praised Education Secretary Michael Gove for the energy he had brought to his job, describing him as a cross between "Mr Chips and the Duracell Bunny".
Mr Cameron made a series of jibes at the expense of Labour. Speaking about education, he said he was always telling his children there was "no job in the world where you do not need to spell and add up properly".
"Unless of course you want to join Labour's frontbench economic team," he added. "Not a career I would recommend."
He also twisted Mr Miliband's conference speech theme, telling activists: "Britain can do better... than this lot."