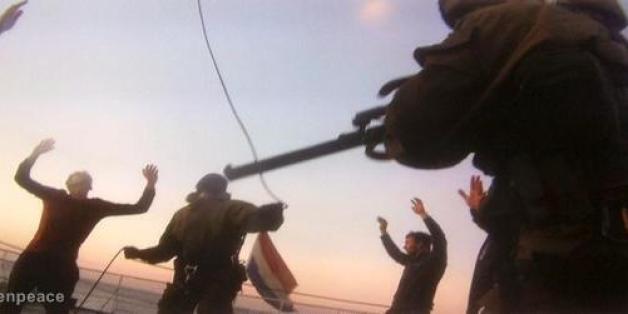 Greenpeace
A Briton has been charged with piracy by Russian investigators after taking part in a protest against Arctic oil drilling.
Freelance videographer Keiron Bryan, from Devon, is among a total of 30 Greenpeace campaigners who were detained last week as their ship circled near the Prazlomnaya oil platform in the Pechora Sea.
The Russian state prosecutor laid charges of piracy against Bryan and Ana Paula Alminhana from Brazil on Wednesday.
If found guilty of piracy, they could be sent to prison for up to 15 years.
The news of the charges came as the activists released shocking new images of the moment the activists were held at gunpoint by Russian forces.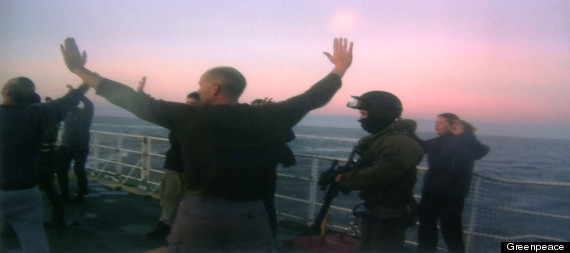 The activists said the Russian officials pointed guns at them
Responding to the charges today, Greenpeace branded the move "extreme and disproportionate."
The group's International executive director Kumi Naidoo said any claim the activists are pirates is "as absurd as it is abominable."
"A charge of piracy is being laid against men and women whose only crime is to be possessed of a conscience. This is an outrage and represents nothing less than an assault on the very principle of peaceful protest," he said.
"It is utterly irrational, it is designed to intimidate and silence us, but we will not be cowed."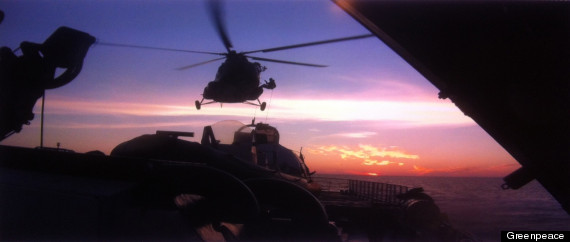 Oil giants ExxonMobil, Eni and Statoil plan to drill for oil in Russia's Arctic waters
Mr Naidoo said the escalating situation was now the most serious threat to Greenpeace's activism since the group's Rainbow Warrior was bombed by operatives of the French intelligence service in 1985, killing one activist.
In an emotional appeal, he added: "I call on people from across the world, anybody who ever raised their voice in support of something they believe in, and especially the good people of Russia, to come to their aid at this moment and join us in demanding the release of the Arctic 30.
"The courageous crew of the Greenpeace ship Arctic Sunrise protested at that Gazprom rig because they felt compelled to bear witness to the slow but unrelenting destruction of the Arctic."
"They made their stand in the interests of us all. Now we must come together and stand with them."
Charges are expected to be brought against other Greenpeace campaigners over the coming hours and days.
The group of activists had already been ordered to spend two months in custody in the northern city of Murmansk, pending an investigation.
The other Britons being held are cameraman Philip Ball, communications officer Alexandra Harris, logistics co-ordinator Frank Hewetson, activist Anthony Perrett and engineer Iain Rogers.
Last week, Mr Bryan's "extremely worried" parents said: "Our son is a very kind, caring individual and environmental issues have always been very close to his heart. He would sympathise with the cause but he was simply there doing his job as a freelance videographer.
"We all love and miss him and just want him home safe and sound."
The platform, the first offshore rig in the Arctic, is owned by Russia's state-controlled energy giant Gazprom.
During the dramatic boarding, Greenpeace International activists locked inside the radio room said they saw other activists detained on their knees with guns pointed at them.
This is pretty terrifying. Loud banging. Screaming in Russian. They're still trying to kick in the door. #savethearctic

— Arctic Sunrise (@gp_sunrise) September 19, 2013
They're almost in the room. This could be our last tweet for awhile. Thanks for all your support, don't stop now! #Savetharctic

— Arctic Sunrise (@gp_sunrise) September 19, 2013
No contact to the Arctic Sunrise anymore. Greenpeace will continue to tweet updates here #SaveTheArcrtic

— Arctic Sunrise (@gp_sunrise) September 19, 2013
John Sauven Executive Director of Greenpeace UK condemned the charge, saying there is "not a shred of evidence" to support them.
"Our job now is to galvanise public support to bring pressure on the Russian authorities to drop these ridiculous trumped up charges and release the 'Arctic 30' immediately."