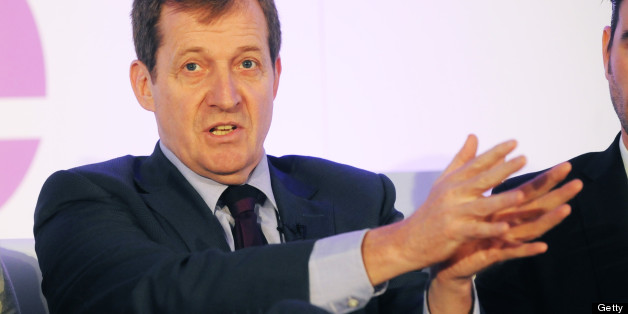 Getty
Alastair Campbell has defended his career as a journalist, insisting he did not descend to the "cultural and moral depravity" of which he is accusing the Daily Mail.
The former Labour spin doctor said the Mail was worse in his view than the News of the World, which was closed in 2011 after it hacked the mobile phone of murdered schoolgirl Milly Dowler.
Campbell has challenged Mail editor Paul Dacre to a debate over the paper's coverage of Labour leader Ed Miliband's late father.
SEE ALSO:
Tories say Thatcher had worse abuse when she died
Clegg: Mail is 'overflowing with bile'
The Mail has refused to apologise for an article saying Marxist Ralph Miliband "hated Britain", while its sister paper, the Mail on Sunday, apologised after a reporter gatecrashed a memorial service for Ed Miliband's uncle.
Campbell's involvement, including a fierce debate against Mail deputy editor Jon Steafel on Newsnight where he branded the paper "a poison in our national life", has led some to question his own record as a journalist for the Mirror and the Today newspapers.
Writing in the Daily Telegraph, Peter Oborne said: "No political journalist in my lifetime has treated politicians with such utter, total and complete contempt" as Campbell.
He claimed Campbell had "ridiculed" former Prime Minister John Major.
But Campbell stuck by his record when he spoke to The Huffington Post UK at a mental health awareness event at the Royal Society for the Arts.
"Look, I was a journalist," he said.
"But even when Maggie was Prime Minister, I didn't make up stories. I didn't make up quotes.
"I didn't do this thing where you only cover stuff which is embarrassing for somebody. If Mrs Thatcher was the Prime Minister, and she made a big speech, you covered it. It was news.
"You didn't sort of say, 'everything she did was terrible'...and the other thing I would say is yes, the Daily Mirror which I worked for was a left of centre paper, wanted Labour to win so the stories you went for went towards that, but this is a whole new level."
He added: "Dacre has an utterly twisted view of the world and I think it's being exposed."
Campbell said the public were "revolted" at what had come out as part of the Leveson inquiry into the press, prompted by the phone-hacking allegations.
And asked how the Mail's behaviour compared to the News of the World, he referred to its closure, saying: "Murdoch did that as a totally tactical thing, he's reopened it as the Sun on Sunday, it's doing very well again...but the Mail, for me, has always been the worst. I've always said that, because they've got this veneer of respectability."