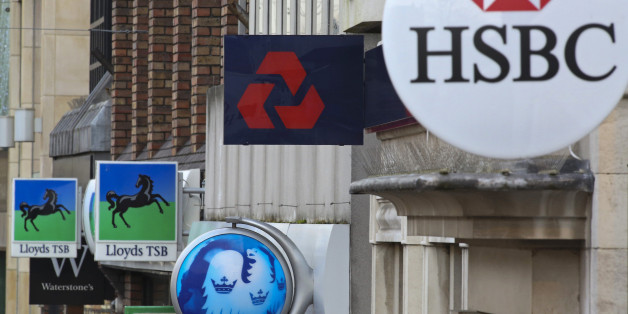 Getty
RBS, Lloyds, HSBC and Barclays will lose their "dominance" by the end of the decade due to the rise of competitive alternative banks and government reforms forcing them to split up, the head of Aldermore, one of the UK's new "challenger" banks, has said.
Speaking to the Huffington Post UK, Aldermore CEO Phillip Monks said the 'big four' banks had "balance sheet indigestion" which limits their ability to lend to businesses as they are still getting rid of the remaining debt on their books as they recover from the 2009 financial crisis.
"If you look out to the marketplace in 2020, you'll see the dominance of the big four will finish. Either they will have had to deleverage in order to replenish capital, or competiton or government will force themselves to sell [parts] off," he added, predicting that there would be "from nine to 12 important banks".
"Many of them are shrinking and they need to shrink a lot more," Monks added.
Recently, government business adviser Lawrence Adviser told HuffPostUK that RBS and Lloyds should be forced to boost lending to businesses or be broken up. He also accused banks of "killing off" firms and failing to help the recovery.
Monks, whose bank is set to have over £4 billion in assets by the end of 2013, quipped: "we'd probably have made someone an offer on their mortgage before the big banks have opened their post."
The Aldermore boss, previously a Barclays executive, attacked the pre-crash period of banking for its lack of effective regulation, saying: "Whatever they were smoking, they overdosed on it. Where was the governance? Where was the board?"
"Why did we just think that banking was like shopping?"
The challenger bank boss' comments come as the Treasury revealed reckless senior bankers could get up to seven years in jail and unlimited fines if their management of a bank leads to it failing.
See also: