Students at a university in Hungary had the wind in their sails after turning up to class in the nude in protest at new clothing rules banning miniskirts and low cut dresses.
With only a strategically placed textbook to guard their modesty, the undergraduates were joined by their professor in their bare-bottomed dissent.
SEE ALSO:
The scantily-clad students were remonstrating against a recent imposition by Kaposvar University, which stated women must wear shirts and trousers or long skirts, while males are required to wear suits.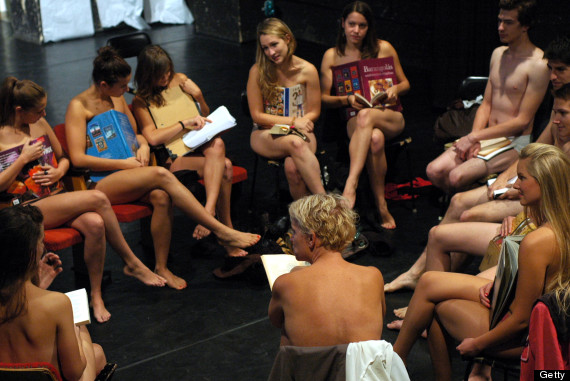 Students at the Hungarian university of Kaposvar town attend class baring all
A letter sent out by the university's rector read: "From October 1, there is also no place in the university for mini-skirts, flip-flops, heavy make-up, inappropriate fashion accessories, or unkempt fingernails and hair," AFP reported.
"We were appropriately dressed but the class room was so warm we removed some clothing as is permitted," one student told the international news agency. Plans have been made for another protest next week, with students donning flip flops and towels.