A British journalist has sat down for a terrifying interview with a Taliban chief, who vowed to take back Afghanistan once British forces leave.
Mirror reporter Chris Hughes confronted the man, who used the name Qari Nasrullah in a secret location surrounded by the extreme group's supporters.
The journalist said the tension had been "unbearable" as he waited for Nasrullah to arrive. The terror chief entered the room, "flanked by two friends, smiled and took a seat," he wrote.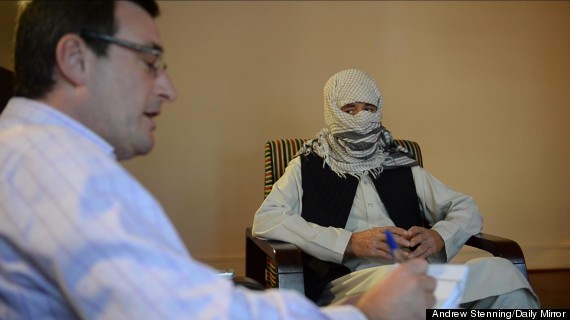 The interview was in a secret location
There are fears that Taliban and other militant groups will return to take control of war-ravaged Afganistan when Western forces leave at the end of the year.
In the interview, Nasrullah said: "In Afghanistan, praise be to God, we are heading towards success. We are approaching total success as most of the country is now under our control.
"Our fighters have had huge successes with many attacks. We will be victorious. Once foreign forces have been exiled we foresee success. God willing, when Nato leaves it will be as it was before... the Islamic Emirates of Afghanistan."
Speaking to the newspaper outside Peshawar, Pakistan, Nasrullah hinted that there could be talks with the Afghanistan government about entering a power-sharing agreement after forces leave in 2015.
He said: "We will unite all Afghans in one home as this is their home. We will sit together and decide between ourselves. We will do everything after the soldiers leave."
Nasrullah, described by the newspaper as someone who has fought with the Taliban for years, added: "This is our Afghanistan and regarding the unification of Afghans and forming government is an internal matter.
"We do want peace but we do not want others to direct us. We are well informed on how to unite our nation, our people and our country and do not need anyone else's directions."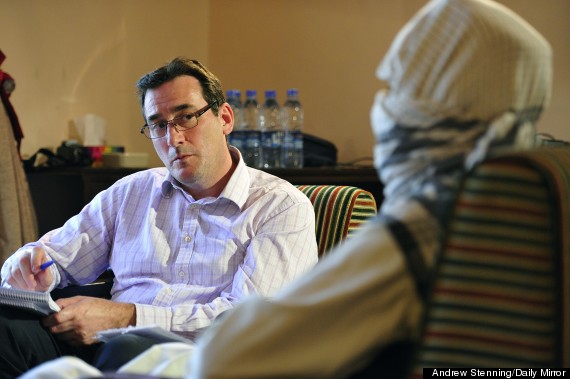 The Taliban chief refused to have his face filmed until it was covered
He dismissed the deaths of thousands of coalition troops at the hands of the Taliban since 2001 as "what happens in war".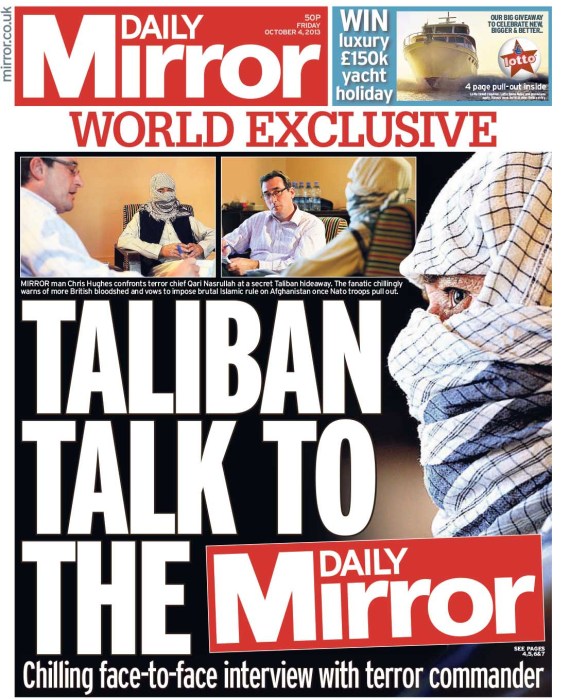 He told the newspaper: "Regarding your soldiers' death toll, when they travel that far to fight a war they are definitely not going to be presented with flowers and there will be deaths for sure.
"And if I say I am sorry for this just to make you happy... then that would be wrong.
"Thousands of our men have been martyred and as for your soldiers, we did not go after them to other countries. They came to our country and they have been torturing us and have sabotaged our government."
The Daily Mirror reported that Nasrullah's aides referred to him as "respected leader", adding that he was a member of its council network for Kunar Province in north east Afghanistan.