A Twitter spat has turned ugly after Labour's Andy Burnham issued a formal warning to Health Secretary Jeremy Hunt - accusing him of running a "smear campaign" and demanding he retracts a tweet where he suggested the former Labour health secretary covered up NHS failings.
The row began after a series of emails were revealed, showing the Department of Health under Labour tried to stop details emerging of a hospital scandal involving higher-than-normal death rates.
Burnham - who was health secretary at the time - was seething at the horrendous reports from the Essex hospital, the news came just months before the general election, which Labour lost.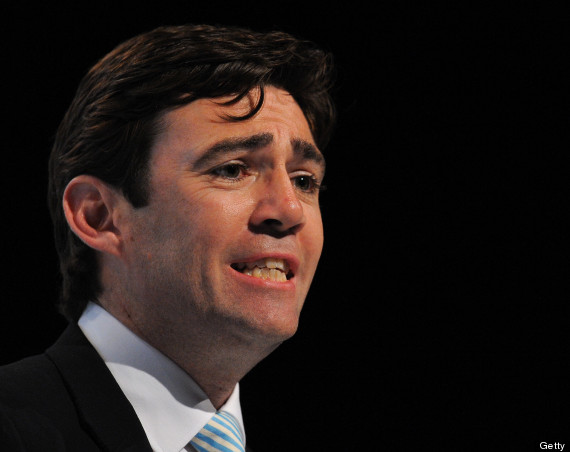 Andy Burnham is fuming
The Tories have called for the Labour shadow health secretary to quit after the alleged "cover-up" came to light this weekend.
Shocking revelations on @andyburnhammp's attempts to cover-up failing hospitals. We're legislating to make sure this can never happen again.

— Jeremy Hunt (@Jeremy_Hunt) October 4, 2013
For the record - story in Mail & Tele today is wilful distortion of the facts. Part of on-going Tory smear campaign against last Lab Govt.

— Labour's Health Team (@LabourHealth) October 4, 2013
Burnham insisted that the damaging emails showed only that he was concerned that rules about disclosure had been broken.
In a furious open letter, Burnham wrote: ""It is impossible to see how you can claim this mounted to a cover-up.
"I therefore ask you, by the end of today, to provide me with evidence to substantiate your assertion.
"If you fail to provide such evidence, I will require a full retraction and public apology. If that is not forthcoming I will consider further action.
A Labour spokesman said: "It is high time he (Mr Hunt) focused on his real job and the unfolding A&E crisis instead of orchestrating a smear campaign without evidence."
The embarrassing emails were released after Tory MP Steve Barclay made a Freedom of Information request to the Care Quality Commission, relating to the Basildon and Thurrock University Hospitals NHS Foundation Trust.
They showed the DoH ordered the CQC not to brief the press on an inspector's report into the trust, which found appalling standards of hygiene.
Inspectors found blood stains on floors and curtains, blood splattered on trays used to carry equipment and badly soiled mattresses in the A&E department with stains soaked through.
But by then the CQC had already told three national newspapers the report was impending.
Barclay, MP for North East Cambridgeshire, said Mr Burnham's position as shadow health secretary was "untenable"as he was shown "putting pressure on the regulator to water down its concerns".
But Mr Burnham insisted the emails showed only that "my concern stemmed from the fact that CQC/DH rules had been broken.
A Conservative health spokeswoman said there was "overwhelming evidence that Labour ministers leant on the quality watchdog to tone down and cover up NHS failure for political purposes".
"First, the former chair of the CQC Baroness Young stated under oath that they 'were under huge pressure not to criticise the government ... we were under more pressure when Andy Burnham became minister because of the politics'.
"Second, when reports of shocking care failures at Basildon hospital emerged, Andy Burnham wrote to the CQC instructing them that their job is to 'restore public confidence in the NHS'.
"That is not the job of the hospital watchdog - their role is to expose poor care.
"Third, Roger Davidson, former head of media at the CQC, testified under oath that 'there were conversations between ministers and the CQC to the effect that the CQC would not cause any trouble in the run-up to purdah. The message that we don't want bad news infected the whole organisation'.
"Fourth, CQC bosses stated that their annual report would be 'largely positive' and would not present critical data 'given the political environment', following a meeting with Andy Burnham's junior minister in which he told the CQC that 'anything you do is political'.
"This was at the same time that evidence was emerging of high death rates at the 11 hospitals currently in special measures which were not acted upon.
"The case is strong and conclusive.
"Instead of flailing around for excuses and continuing the denial that meant hospital failures went unchecked for so long, Andy Burnham must apologise to patients for the awful things that took place on his watch."