Even after Adnan Januzaj's match-winning two-goal display at Sunderland the Manchester United teenager was still bracketed with the word "risk".
With United facing three successive Premier League defeats for the first time since the winter of 2001, manager David Moyes' decision to start the Belgian on the left wing supposedly represented a gamble.
It was naive to regard it as such before the match, let alone after it.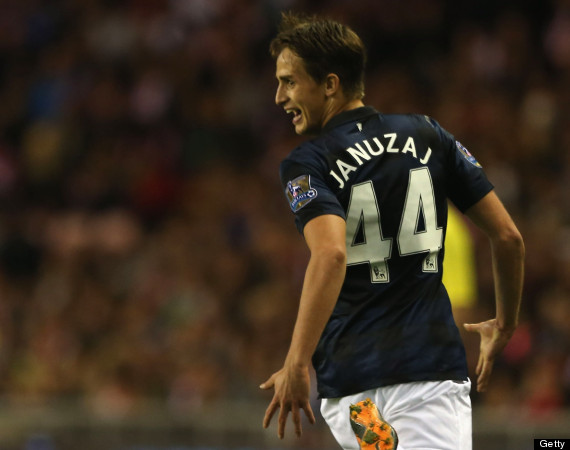 Januzaj scored twice on his first full debut
Januzaj was, along with Wilfried Zaha, United's outstanding success from an ambivalent and commercially-dictated pre-season tour. Whereas Zaha has not made an appearance since the Community Shield and dismissed rumours of an affair with the boss' daughter, Januzaj's burgeoning reputation has flourished.
The 18-year-old's cameo against Crystal Palace last month enlivened a lacklustre win and he was one of the few players to emerge with any credit after West Brom's worthy win at Old Trafford.
As Moyes revealed on Saturday, the Belgo-Albanian winger probably merited a start "two or three weeks" prior to his ebullient display at the Stadium of Light.
United's wide men have performed poorly for well over a year, now. Ashley Young is the most unpopular first-team player with fans since Kieran Richardson, Antonio Valencia is as frightened of a number as he is of crossing and Nani, at the age of 26, still plays like he is 20.
With Zaha seemingly not even up for consideration it was logical to play Januzaj against the Premier League's worst side.
Even when United trailed Sunderland Januzaj shone. In time, he will need to bulk up but not too much, otherwise he will lose that agility which allows him to glide along the pitch like a carefree ice skater.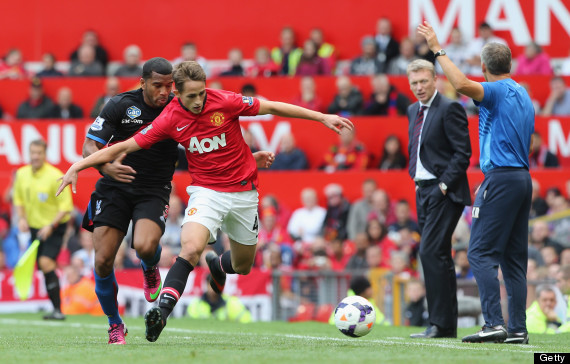 Januzaj performed well on his Old Trafford debut against Palace
He received his first booking in professional football for a desperate dive but at 18 will learn from such mistakes. Moyes will have told him to cut it out.
Januzaj's first goal improves on repeated viewings. However lazy Ki Sung-Yueng was not to track Januzaj, there was little space to beat Kieran Westwood but he pinged the ball through the gap with technical precision which ridiculed the "risk".
It is just unfortunate for Januzaj his prodigious predecessor in the academy, Ravel Morrison, trumped him in the early goal of the month stakes. His diagonal left-footed volley arrived at an awkward angle and it is testament to his class that he hit it with control and grace.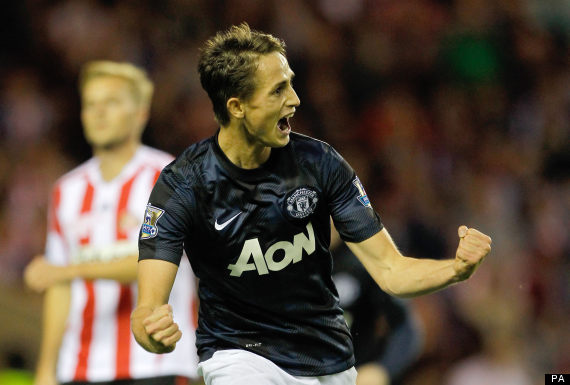 Januzaj is merits his first XI berth at United
Wayne Rooney was Moyes' sole success story of his first few months in charge of United until Saturday, when Januzaj repaid the faith the Scot has quickly shown in him. He has also entered United's Baby Give It Up pantheon alongside messrs Butt, Possebon, Obertan and Young.
Januzaj was named in Sir Alex Ferguson's last ever squad at West Brom but was overlooked in favour of three 30-somethings.
Moyes is determined not to repeat the same mistakes Ferguson made with Paul Pogba two seasons ago. In the space of one winter week, Ji-Sung Park and Rafael da Silva started in central midfield ("even though there were no midfielders") and Paul Scholes came out of retirement, which convinced the Frenchman his future should be played elsewhere.
United's squad deficiencies give the impression there are no wingers, and Januzaj, whose contract expires next year, must be spurred to stay.
The only risk with Januzaj would be not to play him.