The Duke of Cambridge wore Wayne Rooney's boots as he graced the Buckingham Palace turf as football took over the British monarchy's official residence.
The orange Nikes were apparently a gift from the Manchester United striker and have WRW0 sewn into them.
Prince William trained with members of the royal household in the grounds after he hosted a reception and football match between Polytechnic and Civil Service.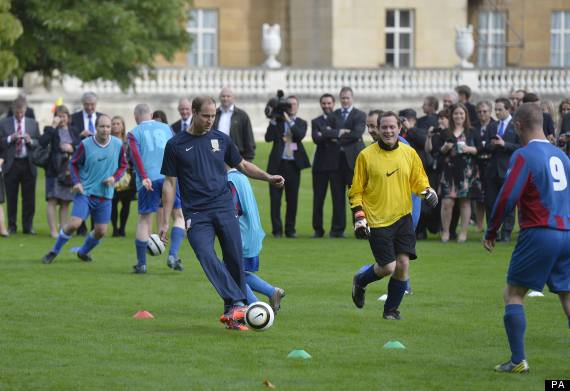 William was put through his paces on the Buckingham Palace turf
The Palace staged the match as part of the Football Association's 150th anniversary celebrations.
William, president of the FA, had earlier kicked off the first football match to be played at Buckingham Palace - after warning any players breaking windows would answer to the Queen.

William wears Wayne Rooney's boots
BUCKINGHAM PALACE STAGES HISTORIC FOOTBALL MATCH
Speaking about his grandmother, he said: "One warning, though: if anyone breaks a window, you can answer to her."
Two of England's oldest amateur clubs - Civil Service FC and Polytechnic FC - took to the pitch marked out in the Queen's garden for a competitive amateur league fixture.