News Ashley Cole was out injured for England's World Cup qualifier with Montenegro on Friday prompted some pessimistic reactions when he is not even his country's best left-back.
Leighton Baines was named in the Premier League Team of the Year for the last two seasons and Manchester United fans are now ruing their club's failure not to sign the 28-year-old from Everton.
Unlike the majority of their areas, England are blessed with four excellent left-backs. Arsenal's assured Kieran Gibbs has been drafted into the squad following Cole's rib problem and Southampton's 18-year-old Luke Shaw is a genuinely exciting prospect.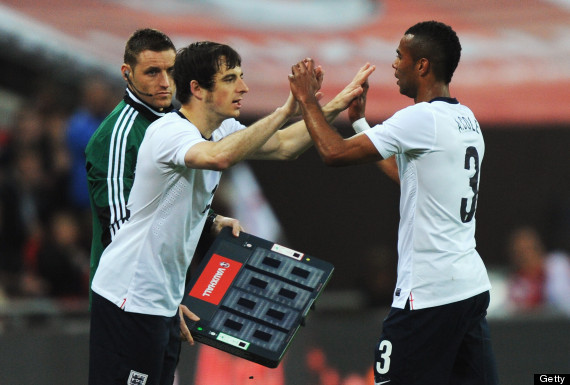 The changing of the guard?
Baines is comfortably the best of the quartet, though. Everton fans could handle Marouane Fellaini's departure but had Baines swapped Manchester for Merseyside the acrimony might have had theatrical chairman Bill Kenwright in tears.
And it is testament to the Liverpudlian's class he has recovered from that Wembley nightmare against Mexico three years ago.
With weeks to go until the 2010 World Cup, Baines played his worst game at the worst possible time and was dropped by Fabio Capello in favour of Stephen Warnock.
Coupled with that display, Baines gave an interview before the trip to South Africa outlining how "homesick" he would get at the tournament, which convinced Capello to cut him from the 23-man squad.
His club form has improved year-by-year, though, and he is unfortunate to have competed with Cole, one of the best full-backs of his generation.
While Cole is still probably Roy Hodgson's first choice, he shouldn't be. He has performed brilliantly at two World Cups and was the best of an abysmal bunch in 2010 but no longer offers a genuine attacking threat like other outstanding left-backs.
Baines is now in the class of David Alaba, Jordi Alba and Philipp Lahm (when he plays there).