SEE ALSO:
A strip show featuring women weighing up to 32 stone has opened in Las Vegas.
Thick Sundaes showcases amateur performers and professional models who class themselves as BBW (big, beautiful women) or SSBBW (supersize big beautiful women).
The event was founded at Foxy's nightclub by Sammee Matthews – a 28-stone mother-of-two who has been a BBW web model for six years.
Scroll down for a gallery of pictures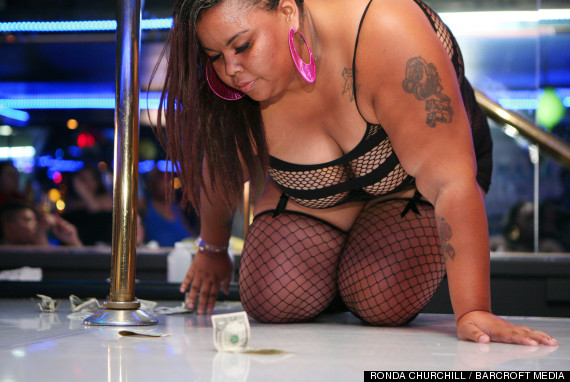 Thick Sundaes features performances by women weighing up to 32 stone
And though the 42-year-old admits Las Vegas is far from "fat friendly", aficionados all the way from Germany are travelling to the city to watch the show.
Matthews' quest to gain more recognition for BBW and SSBBW women features on the new Channel 5 documentary, Fat for Cash, as part of a new 'Supersize Season'.
Matthews, from Las Vegas, said: "I wanted to do something different. I wanted to look at myself differently.
"Vegas is a thin city, it's not a place where it's fat friendly.
"When I approached the first club and told them what I wanted to do they said they didn't want 'big' girls.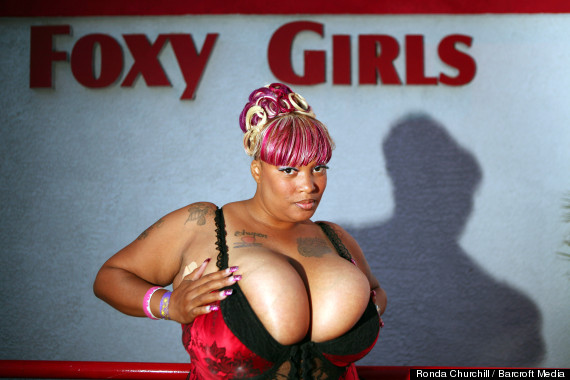 The club encourages self esteem and body acceptance
"The worst thing you can tell me is 'no' because I'm going to try and I'm going to keep trying until I find something that works."
Matthews, who has Sitophilia - an erotic obsession with food, admits she has always struggled with her weight.
And her sexual fixation on sugary treats - particularly cake and sweets - saw her tip the scales at 32 stone.
Now 28 stone she says she's finally embraced her size.
She said: "To be an BBW and be confident about it you need to have the ability to carry the weight.
"I don't try to hide my size. I wear what I look good in and I wear what's comfortable.
"I don't think I've ever been a sloppy big girl, I wear it well."
Today she's considered a pioneer on the SSBBW and BBW scene and Thick Sundaes is becoming so well known that it is now attracting women who have never performed in a strip club before.
She said: "You've got women who would never attempt to dance; it's beautiful in there."
'Fat For Cash' is on Channel 5 at 9pm on Wednesday October 9th as part of the new Supersize Season.