The Sun has acknowledged that its front page on Monday "risked stigmatising already vulnerable people", as a petition took off on Wednesday to get the newspaper to apologise for its coverage of people killed by mental health patients.
The petition on Change.org, begun by psychology teacher Rhiannon Lockley, already has more than 58,000 signatures - calling on the newspaper to donate a significant sum to a mental health charity.
The headline of '1,200 KILLED BY MENTAL PATIENTS' came on the day that a report revealed people with mental health problems were three times more likely to be the victim of crime than the rest of the population.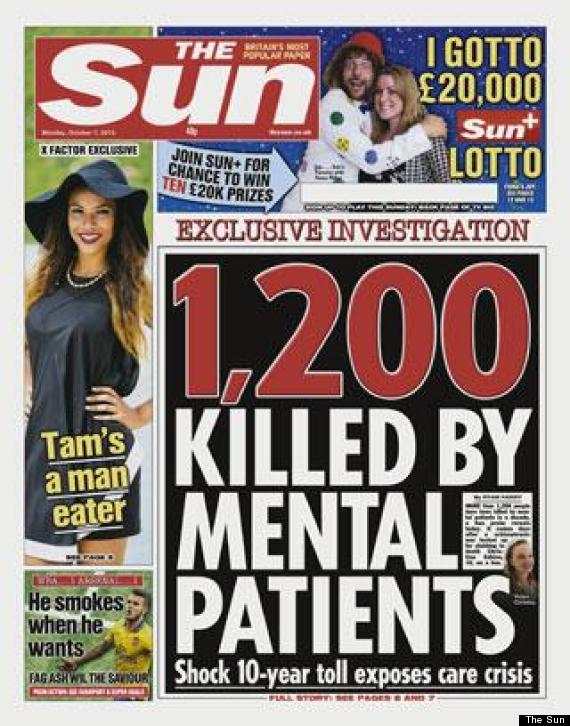 The Sun's front page
On Tuesday, a Labour Party spokesman said The Sun's splash "disgracefully reinforces" the stigma surrounding mental health problems, which affect one in four people.
The paper devoted another two-page spread to the issue this morning, in a deeply personal feature by Sun crime editor Mike Sullivan, whose sister Katie was stabbed to death by a women suffering from mental illness.
"Yesterday's front page of the Sun.. was criticised in some quarters - most notably by Tony Blair's former media chief Alistair Campbell - for stigmatising those with psychiatric problems.
The purpose of the story was not to discriminate against the mentally ill but to highlight scandalous failings in their care which still claim lives.
Referring to paranoid schizophrenic Phillip Simelane who stabbed Christine Edkins, Sullivan said the case "mirrors the mistakes which led to Katie's death. A history of violence was ignored and there was a communication breakdown between agencies."
The Sun's editorial this morning compared the poor reception of yesterday's splash to the outcry over the Daily Mail's piece about Ralph Miliband.
"The Sun reports on a care crisis among the mentally ill that has led to many deaths. We make clear those who are violent are a tiny minority - and that they are victims of the system too.
"There is an explosion of hysterical, sanctimonious rage against the paper from a noisy left-wing Twitter mob," the paper wrote.
Lockley, from Brierley Hill in the West Midlands, told HuffPost UK she had been horrified by the coverage: "We obviously want the apology, but this is more about raising awareness that the media, the most powerful voice in this country, have a responsibility to exercise due diligence.
"My dad suffered from depression, I have many friends and colleagues too, who have shown support."