A Jewish couple have been left horrified after the cameraman at their wedding accidentally recorded an anti-Semitic rant on the video of their special day.
Claudia Ressler and Stan Gocman were left disgusted after videographer Anthony Aurelius was heard saying "I don't think I blame Hitler," as he filmed the bride from only a few feet away.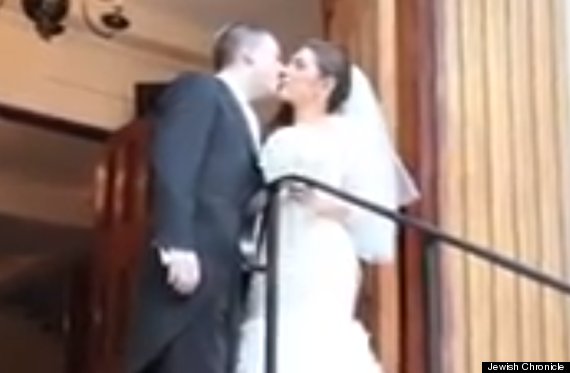 The happy couple on their wedding day
As he recorded at the ceremony, Aurelius told his assistant that Jews think "they're better than everybody else because they're from Israel," the Jewish Chronicle reported.
TOP NEWS TODAY
Tropical Ecosystems And Economies Will Be Devastated 'Within Our Generation
Briton, Lynne Spalding, Found Dead In San Francisco Hospital Stairwell
Drunk Passenger Strips Naked At Manchester Airport, Gets Tasered (VIDEO)
Gözde Kansu, Turkish TV Presenter, Fired For Wearing Low-Cut Top
Madeleine McCann Possible Suspect E-Fit 'To Be Released By Police
"Not a lot of niceness about them is there? Very little warmth."
His assistant said: "They are the meanest people in the world, I know very well."
Aurelius then launched into a scathing attack on the female guests at the ceremony.
"Some of the Jewish women are very beautiful to look at, but I can tell you, they'd be right f***ing cows. Very f***ing snooty, they'd be a pain in the arse.
"Not a very attractive bride at all," he cruelly added.
The vile rant was aired after the couple demanded the raw footage of their ceremony after the edited video they were sent was such poor quality.
The couple, who have been together for over eight years, had considered taking legal action after the police were unable to help.
But since the wedding in August last year Aurelius has closed down his businesses, making it difficult for them to take legal action.
Now, they say they are determined to air his views so that other Jews do not use him.
Aurelius has since written a grovelling hand-written letter, published in the Evening Standard, and a subsequent e-mail to the couple.
"I am very sorry for our stupid, child ish conversation," he said in the e-mail exchange. "I am also very sorry for offending you and possibly your family also. You did not deserve this.
"I am ashamed, in honesty. I have felt awful about this and did not know what to say, in truth."
"I failed very badly in God's eyes."